Color Blindness
May 2015
Prof. Scarlet Leslie
Better described as color vision deficiency, color blindness is when an individual is unable to perceive differences between certain color hues. Approximately 8 percent of males and less than 1 percent of females have problems with their color vision. Actual color blindness, seeing only black and white or shades of gray, is extremely rare.
There are two types of photoreceptors in the retina of the eyes - rods and cones. Rods are located around the edge. They are responsible for black and white vision, as well as people being able to see in the dark or night vision. Cones are concentrated in macula, which is the central part of the retina. They are the receptors for the primary colors of light - red, green, and blue. Cones are not as useful at night, but during the day, they make our lives more colorful. In color blindness, the cones fail to respond appropriately. Colors may appear washed out or are easily confused with other colors.
The most common types of color blindness are red-green color blindness and blue-yellow color blindness.
Red-green color blindness is the most common type of color blindness. It is inherited. Since it is caused by an X-linked recessive gene, red-green color blindness is more common in males. The genes for color vision receptors on the the X chromosome. If the mother is a carrier of the red-green color blindness gene, her son has a 50% chance of being red-green colorblind. For a girl, both of her X chromosomes must possess the color blindness trait for her to be red-green colorblind. People that possess red-green color blindness can function normally and do not require treatment. Many spend most of their lives without even realizing that they are colorblind.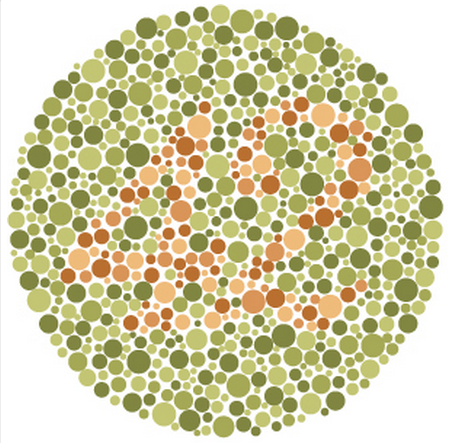 The Ishihara color test is a test for red-green color blindness. It consists of a series of plates with colored dots. People who are not color blind are able to see a numbers in each plate. Those who are red-green color blind cannot see the number. The Ishihara color test may not be useful for young children who have not learned numbers yet. There are alternative tests with shapes.
Blue-yellow color blindness is the result of a mutation on chromosome 7. It affects the blue receptor. Those with blue-yellow color blindness have difficulty discerning between blue and green hues, as well as trouble with yellow and red hues. Males and females are equally susceptible to blue-yellow color blindness.
Color blindness can also be acquired. Certain eye problems, such as cataracts or glaucoma, can affect color vision. Aging in general, especially when the optic nerve is involved, can lead to color blindness. A change in color vision is a side effect of some medications, but it usually is not permanent.
Although not a huge percentage of people are color blind, it is still something to consider for design. For website design, for example, it may be important to consider not putting red and green together. My boyfriend says that he had trouble playing Risk on Pogo because yellow looks like green and blue and purple are similar. Quite a few video games now come with a color blind mode.
It has been determined that people with red-green color blindness can see through certain camouflage patterns that people with normal color vision miss. This could be the evolutionary reason why red-green color blindness is as prevalent as it is!