To Bruges and Ghent We Went, Part 2
June 2016
Prof. Silmarien Szilagyi
GHENT
On the third day of our stay in Bruges, my nephew and I took the thirty-minute train ride to Ghent, which is also in the Flemish Region of Belgium, albeit in East Flanders, not West. The first thing I noticed about it was not its lovely architecture, but its public transportation system. Bruges has buses, sure, but Ghent has trams. It may seem silly to get excited about trams, but they reminded me of Budapest and allowed us to avoid taking a taxi (I hate taxis). Ghent's trams, however, are not Budapest's trams, and it took me nearly fifteen minutes to figure out how to get from the train station to the city center. And even then we may have gone the wrong direction at first...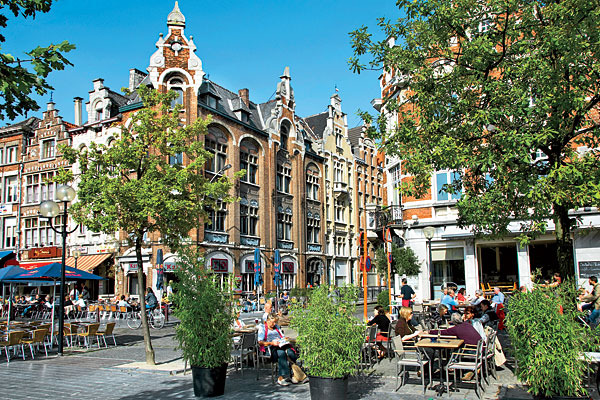 But we made it eventually, and the initial frustration was well worth it. Ghent is equally as beautiful as Bruges--medieval buildings, magnificent churches, lovely grachten--, but with a more modern and metropolitan atmosphere. Where Brugge is sleepy (despite the tourists), Ghent is lively. It has a rich history, bolstered partly by Bruges' renown in the Middle Ages, and is the birthplace of several significant historical figures, such as John of Gaunt (the 1st Duke of Lancaster) and Charles V (Holy Roman Emperor and king of Spain). For a time, it was also one of the largest and richest cities in Northern Europe.
Sint-Baafskathedraal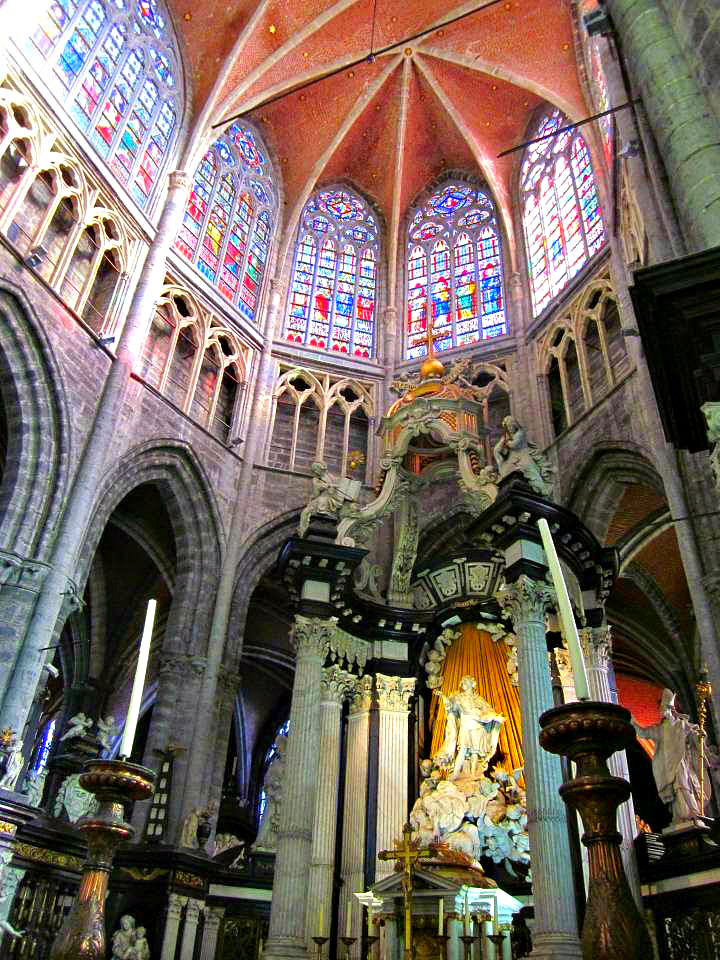 Dedicated to Saint Bavo of Ghent, the Saint Bavo Cathedral was constructed before 942 AD, originally as a wooden chapel, and then was expanded in 1038 in the Romanesque style. More additions were added, using stone, until the cathedral was considered complete in 1569. While the church is certainly beautiful, with its colorful stained glass windows and decadent pulpit, its claim to fame is being the site of Charles V's baptism.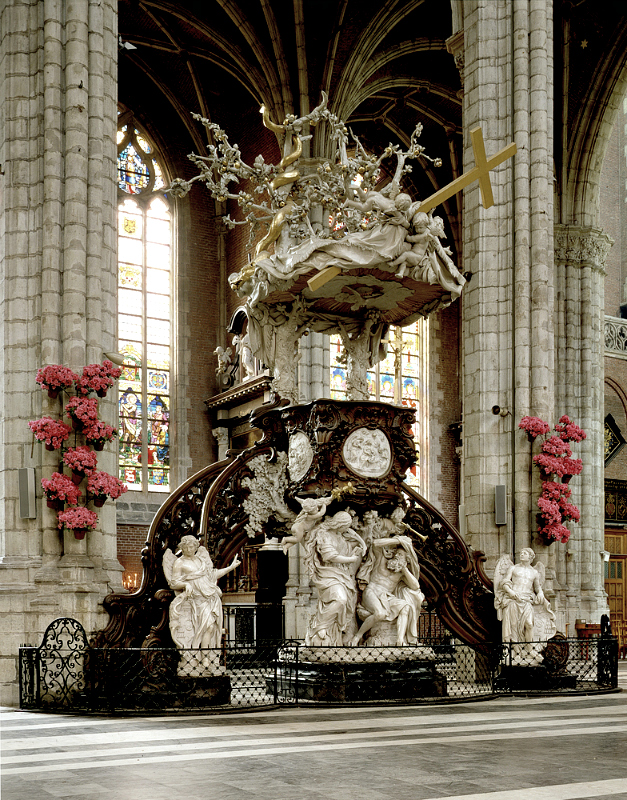 It also contains a massive painting by Bruggian (?) painter Jan van Eyck, which the Germans "purchased" in 1821 and owned until the Treaty of Versailles mandated that they return it to the cathedral. They did so reluctantly, and, when World War II broke out, Ghent thought it safest to send the painting to the Vatican, in case the Nazis also decided to "purchase" it...
Gravensteen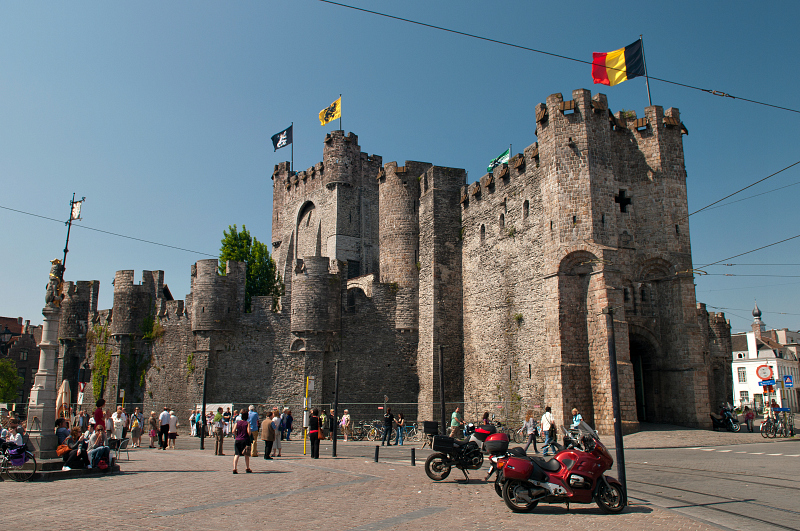 This castle certainly stands out, since it sits in the middle of a fairly busy street, across from a fancy bath products shop. It was built in 1180 by Count Philip of Alsace, who was inspired by the castles he saw in the Holy Land during the Second Crusade. Gravensteen means "castle of the counts," probably because it served as the seat of the Counts of Flanders until the 14th century. Afterwards, it was used as a courthouse, a prison, a housing complex, and a factory, before it was renovated in 1885 and re-opened as a museum.
Sint-Niklaaskerk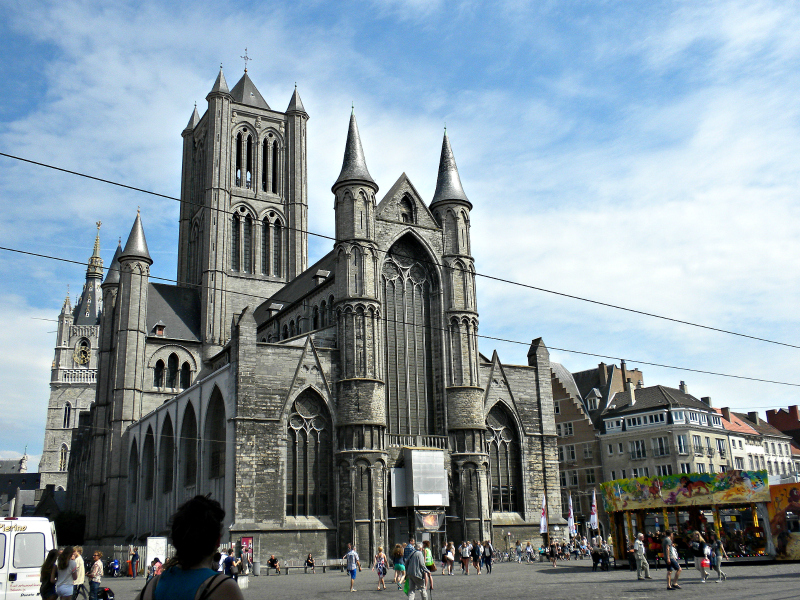 One of my all-time favorite churches is St. Nicholas' Church, situated in the large square of the city center. It was constructed in the 13th century using blue-gray stone that, honestly, makes the church look slightly ominous, like the castle of a villain from a fantasy novel or a Disney film. Although its interior is a bit drab compared to the other Flemish churches I'd visited, its looming, gray exterior more than compensates.
Sint-Michielskerk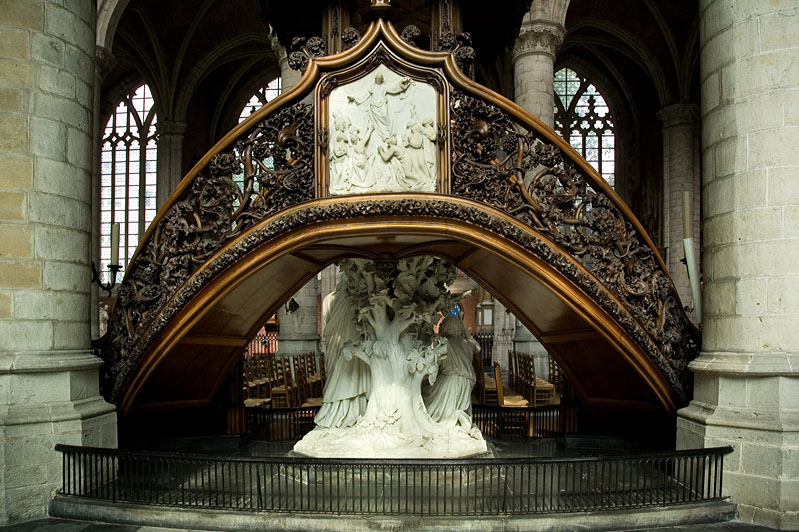 Contrasting sharply with St. Nicholas' Church is the richly-decorated St. Michael's Church. It was built around 1440, on the site of an earlier chapel dedicated to St. Michael, in the late Gothic style. Its exterior may be a tad sober ("boring" is a better for it...), but its interior is truly lovely. Full of high, sprawling arches; colorful paintings; and elaborate stone and woodwork, I found I could not snap enough pictures.
My favorite embellishment, however, was the ornate pulpit, carved from white marble and dark wood. I think it shows Jesus (rising from the dead?), but the only information I found on the sculpture was in Dutch. And I don't like Dutch enough to attempt to translate it.
Graslei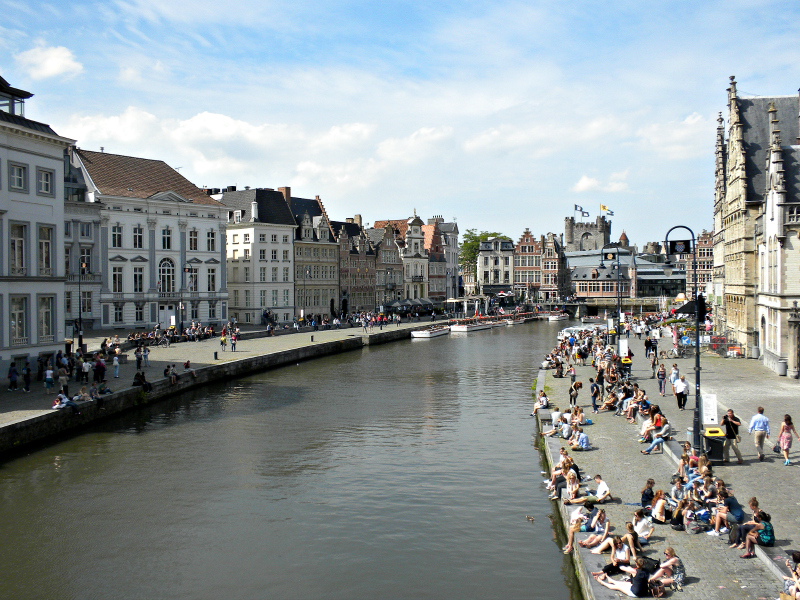 The final sight in Ghent that we'll discuss is the Graslei. It is technically a street, but because it contains a gracht (an urban waterway), I liken it to the canals in Bruges. Located in the heart of Ghent's historical center, the Graslei is an excellent jumping-off point from which to meander the small side streets that crisscross the gracht. It also appears to be a popular hang-out spot for young Belgians, due to its sophisticated yet cozy atmosphere.
Sources:
1. https://en.wikipedia.org/wiki/Ghent
2. https://en.wikipedia.org/wiki/St_Bavo's ... ral,_Ghent
3. https://en.wikipedia.org/wiki/Gravensteen