Strike A Pose
April 2013
Ariella McManus
Hello again, my little budding fashionistas! With all of the Easter celebrations and parties coming up, it's time to get made up. After all, style is only one part clothing. So this month, we'll be covering all of the Spring makeup trends!
The Blush of Spring...Literally!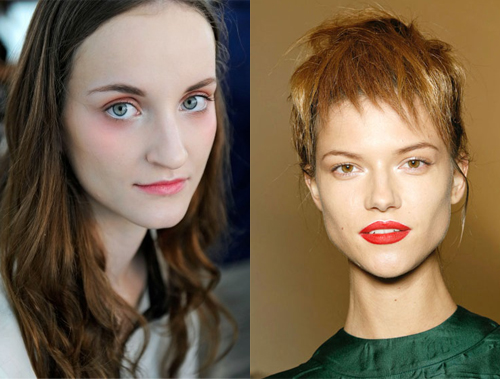 Our first trend takes the blush of spring and runs with it, leaving Barbie positively pink with envy! Pink, and it's more bold cousin, scarlet, were all over the runway and the model's faces. Pink however got the boldest treatments, being blended and layered over the eyes, cheeks, and lips, while the more popular scarlet lip lost its shine, becoming more matte and easy to wear. So embrace your inner rose (and inner Barbie wannabe) and layer on the pink!
Lose the Mascara, Pick Up the Eyeliner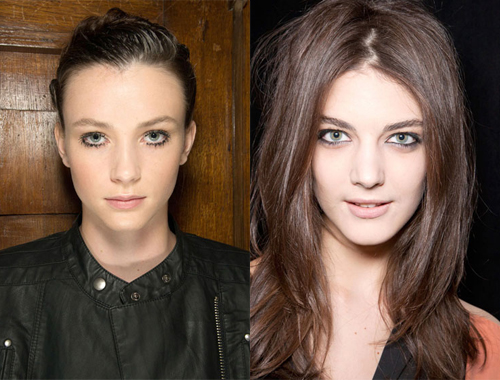 Well, maybe not fully lose the mascara, but the big and full lashes of previous seasons are out, in favor of more adventurous and unusual looks. From the inky fringe inspired by Twiggy, to the truly bold option of purposely clumping the mascara on the lashes, it was a whole new world of lashes out there! And for those who want to take it simple, or just play with eyeliner, the lashes were left as simple as possible, letting the new 'rim' take center stage. Just simply line around the eye, top and bottom, and then smudge until perfection. Marvelous, darling!
Smiling Irish Eyes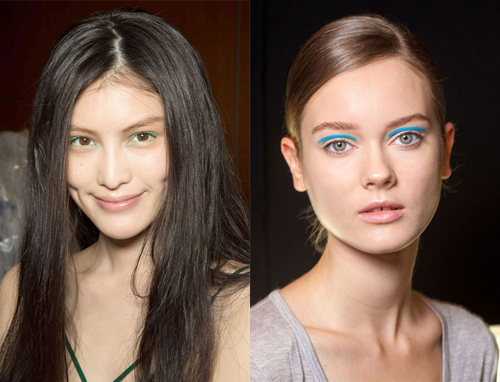 Or maybe just ocean hued ones, but if pink is simply NOT your color, never fear. The other color trend of spring is blue and emerald green (just like St.Patrick's day)were layered over eyes and brought down to the nails and beyond. Whether you go for bold stripes of neon or a soft shimmering color, if it looks like it could have come from the coast of Ireland, you are off to a beautiful start. Sorry, no pots of gold are included, darn little leperchauns ran off again.
Go Bare...Well Almost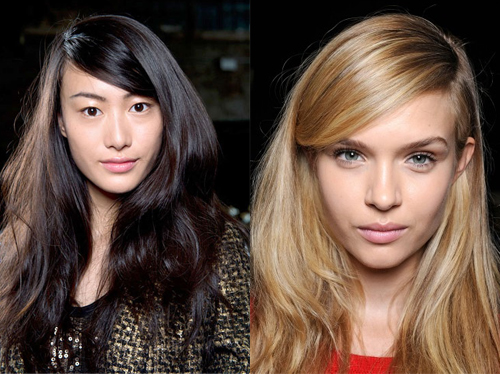 Whether serving as a background for more bold effects, or to simply offer a fresh face, runways everywhere were glowing with almost bare faces, seemingly lit from the inside. Whether your bright glow comes from a bottle or just a good night's beauty rest is your secret to keep.
Brows Aboard!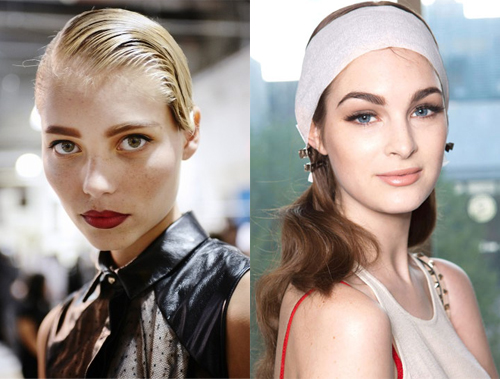 A still continuing trend, the strong brow, shows no signs of stopping. In fact, the brows only grow stronger and more pronounced, although kept impeccably groomed so as not to get that cave woman effect. Sadly, this is a 'either you're born with it' trend or you fake it. Anyone else have their brow pencils ready?
Designer Spotlight: Armani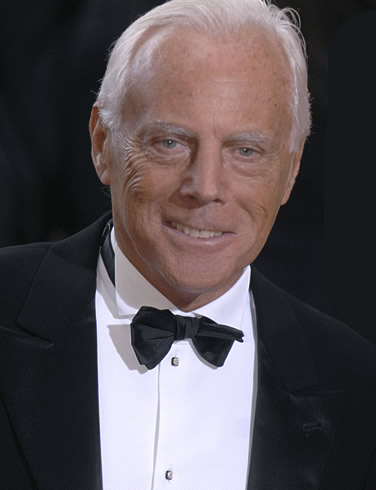 Moving on from the ever classic Chanel to another classic, Armani. Giorgio Armani, as his whole name goes, is synomomous with high fashion, and with several labels both for men and women under his name, the man is a bonafide legend in fashion. In fact, in 2001, he was considered the most acclaimed designer to come from Italy, the country itself a hot pot for fashion.
However, Armani did not always want to do fashion. Born in 1934 as the middle child in a Nothern Italy town known as Piacenza as into a typical family, he originally aspired to do medicine after reading A.J. Cronin's The Citadel. He even went so far as to study at the University of Milan for three years before joining the military, where he got some first hand experience of medicine. After experiencing the reality of the hospital life as well as occasional visits to the Arena at Verona (a large ampitheatre known for putting on operas), he vowed to find something else to do with his life.
And so after his time in the military, he would go on to become a window dresser for a department store in Milan, quickly advancing to salesman in the menswear department, which he credits with teaching him the marketing side of fashion. By the 1960's, he had moved on to actual design of clothes, now working for the Nino Cerruti company. His skills and fine tailoring details were in great demand, and during the decade he worked for the Nino Cerruti company, he also freelanced, designing for up to ten other manufactors at a time. Also happening in the late part of the 60's, was his introduction to the architect draftsman known as Sergio Galeotti, with whom he moved into both a personal and professional relationship that would serve as inspiration for many years to come.
By 1973, Galeotti convinced Armani to take one more step out on his own, opening up his own design office in Milan, where he would continue to freelance, further developing his style into what we know of Armani now. The final step was taken in 1975, where he founded his label Giorgio Armani S.p.A. with Galeotti, and that same year he released both a menswear and womenswear line, showing them in Spring and Summer runways.
Once he took that step, it was a whirlwind of excitement. By the 1980's, he not only introduced the Mani line in America, producing designs for the American public, he was also in talks with L'Oreal to create perfumes and working on film costume design, working on such films as American Gigolo and The Untouchables. He also started over a dozen lines during this time, despite losing his partner Galeotti in 1985.
By the 1990's, he was a world renowned designer, withstores for his various lines in both America and Italy, and making his way into the Chinese Market, starting in Beijing in 1994, opening a flagship in Shanghai by 2004, and more to come in the 2011. The Guggeinhiem Musuem even did an exhibition for him, the first ever for a living designer, where 29,000 people attended in his honor. Even now in the 2000's, he showed no signs of slowing down, designing for such figures as both Lady Gaga and Batman (for the Christan Bale movies). As of 2009, Armani has 60 Giorgio Armani boutiques, 11 Collezioni, 122 Emporio Armani, 94 A/X Armani exchange, 1 Giorgio Armani Accessori, and 13 Armani Junior stores spread over 37 different countries, showing just how much of a truly global power that he was,is, and continues to be.