Strike A Pose!
July 2014
Ariella McManus
Hello all! This month we get into all things hair related. And boy! do we have styles for every taste. Whether you like it messy or neat, up or down, ornate or simple, there's a way for you to be on trend this spring and summer!
Windswept Updos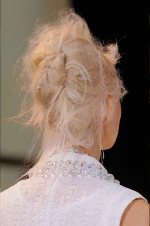 At many of the runways this season was the messiest version of an updo yet. Hair was teased and twisted, with loose tangles framing the face, or became chaotic works of art on the back of the head. For a simpler look, some choose to simply roll their hair into unfussy but no less special French twists.
Mixed Textures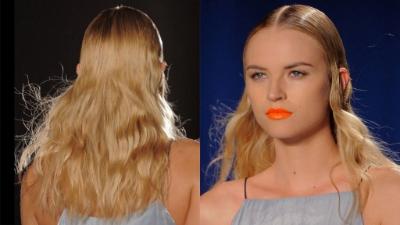 For something with a little less fuss, there's this style. Hair is slicked down on top and parted down the center, while the bottom is loose and wavy. For an even more striking look, skip the part and slick it straight back to let out your inner punk princess.
Old World Braids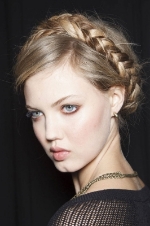 If your heart lies with the romance of the past, then look no further. Unlike the funky updates that we saw on braids last year, this year the braid returned to its peasant roots. Whether the hair is loosely braided, in thick braids with tendrils around the face, or wrapped like crowns around the head, old-fashioned braids are new all over again.
Gold Details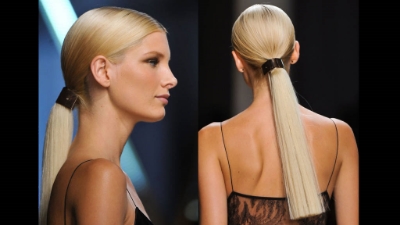 Competing with the brilliance of the sun's rays was the shimmer seen on the catwalk from the myriad of baubles and do-dads adorning the hair of the models, as they strutted their stuff. From simple barrettes to ornate combs, gold was the color of the day. It's time to channel your inner sun goddess and join the party, m'dear!
Ornate Ponytail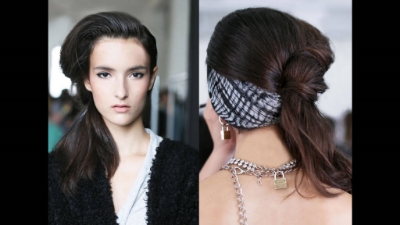 Personally, when I think of the ponytail, I think of "my" version, which usually involved pulling my hair into a hair tie and letting it fall in an unimpressive lump down my back. It was quick, "sporty", and a bit lazy, if truth be told. Now, mind you, nothing wrong with the good, old-fashioned ponytail on a casual day, but it's time to elevate this humdrum look into something special. Apparently, the denizens of spring fashion felt the same way and took the ponytail upscale, and really put it through its paces, twisting it this way and that to create some really elaborate 'dos. Never fear, however; even a novice can replicate them easily enough. Leave a chunk of hair out, gather the rest at the nape of the neck, form a low ponytail and then finish it off with a trendy scarf. Voila, a masterpiece! And that is just one example. Have fun with it!
Flowers in the Hair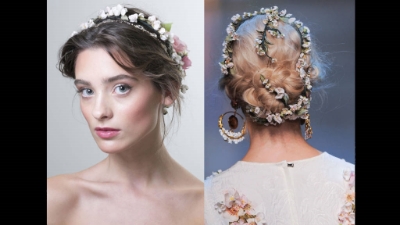 No, we have not used a time-turner to return us to the 1960s. Don't let whatever image you may already be conjuring up turn you against this new "old" trend without at least giving it a try. I was pleasantly surprised at the fresh modernity of it, and this is coming from someone who generally takes to the hills at the mere hint of anything "sweet". If I was able to appreciate the beauty in it, trust me, anyone can! Just remember, a little can go a long way, so moderation is the key. You don't want to end up looking like a lost wood sprite. Well, maybe you do...
And there you have it--the latest and greatest hair trends for the upcoming season. Who knows, you might just find a look you've been dying to try. Pick one that suits your fancy and go for it. It's only hair, after all. Besides, if it doesn't turn out right, you can always say that you're a metamorphagus-in-training. Or, you could blame me. Whatever works for you.