Boots, Krampusz, and Cake: A Hungarian Christmas
December 2012
Silmarien Szilagyi
When I got the bright idea to write this article, I was going through a baking phase. I baked tons of cakes, mostly Hungarian because they're less daunting to me, so I figured, why not share one of these cakes with HOL? I have since regretted that spur of the moment decision because it is a Christmas cake, and it's not yet Christmas, so I will not be baking it for weeks... However, I'm a woman of my word, so here goes nothing!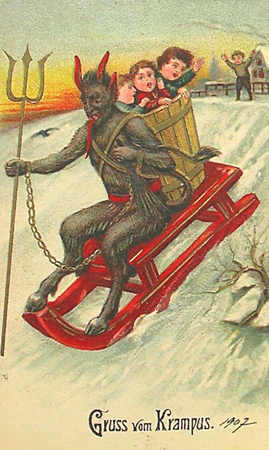 Say the word "present" and children around the world think of two things: their birthday or Christmas. Their eyes light up; huge smiles form on their faces; they jump up and down in excitement. But Hungarian children have an extra special reason to be happy about presents--Santa brings theirs early! That's right. On Mikulás Nap (St. Nicholas Day), on December 6th, ol' Saint Nick descends from the North Pole and fills Hungarian childrens' stockings with gifts. He used to fill their boots, but then he realized that wasn't very sanitary. Unfortunately, only well-behaved children would wake up on December 6th to find their stockings filled to the brim with pretty presents. Naughty little boys and girls found coal or virgács--gold-painted sticks--left by Santa's grumpy demonic helper, Krampusz. Parents often scared their children into good behavior by telling them Krampusz would visit them, and might even kidnap them, if they're disobedient. Needless to say, the threat proved effective.
Now before you think, "those poor Hungarian children only get small gifts!," on Christmas day, they receive bigger presents from their parents and relatives, not from Santa. Gifts are placed under a fir tree, decorated with ornaments and a chocolate Hungarian candy called szaloncukor, which literally translates to "parlor candy." Families come together for a big dinner--often consisting of traditional fish soup (halászlé), stuffed cabbage (töltött káposzta), duck or chicken, walnut or poppy seed roll, and a traditional cake called zserbó szelet (Gérbeaud slice, named after the famous Budapest cafe). Basically, the Gérbeaud consists of three rectangular pieces of yeast dough layered with apricot jam/preserves and ground walnuts, with chocolate melted on top. Read on for the recipe!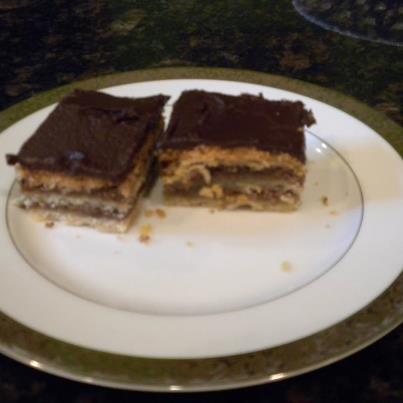 Yield: 1 approximately 9x13 piece of cake
Ingredients:
1 pound (3.5-4 cups) all-purpose flour
1/2 pound (2 sticks) unsalted butter
3 egg yolks
1-1.5 teaspoon(s) yeast (dissolve in a little milk in the microwave for 30 seconds)
4 tablespoons sugar
3 teaspoons sour cream
Approximately 1/2 pound ground walnuts
1 medium-large container or 2 small containers apricot jam/preserves
9-12 ounces bakers chocolate
Preparation:
Combine flour, butter, egg yolks, dissolved yeast, sugar, and sour cream in a large bowl. Mix until dough is even and malleable
Cover and let rest for 30 minutes
Grease a 9x13 baking dish/pan
Knead and roll out dough into a flat rectangle (approximately 1 inch thick) and cut into 3 equal pieces
Let dough rest another hour
Grind walnuts in a food processor and transfer to a bowl
Put first piece of dough into pan and spoon an even layer of apricot jam/preserves and walnuts (amount varies to taste)
Layer second piece of dough on top, repeat with apricot jam/preserves and walnuts
Put final piece of dough on top
Let stand 1 hour
Preheat oven to 275-325 degrees F (convection ovens on lower, other ovens on higher)
Put cake into oven for minimum 40 minutes (usually around 1 hour, depending on oven) or until cake is golden brown
Remove from oven and let cool
Melt chocolate and once cake has cooled, spread on top in an even layer
Some tips I've learned:
Have all ingredients ready and on hand because it's a messy process!
Grind your own walnuts--tastes better that way
Try to get an apricot jam/preserve with little added sugar (this is not a super sweet cake)
Try bittersweet or semisweet baking chocolate, as opposed to the more bitter stuff
Use cold butter, as it makes the dough lighter
Mix yeast with a little milk and microwave for 30 seconds to dissolve in dough better
Well, that's all I've got. Now step away from the computer, decorate your Christmas trees, and go bake something delicious! But most importantly, be good, or else a funny-looking satyr may pay you a visit... Happy December!