Strike A Pose
February 2013
Ariella McManus
At long last, holiday season has arrived, and along with all of the other goodies, it brings us a whole new array of fashion trends. New colors, new accessories...I can hardlly contain my excitement! In this issue, we'll not only explore all of that, but also touch on some very important holiday "do's and don'ts" that every party-goer needs to know. So put your best foot foward and follow me! Beauty may be only skin deep, but a picture is worth a thousand words..so why not make the best picture you can?! Besides...who can resist a new pair of shoes?! It would take a stronger witch than me, that's for dang sure!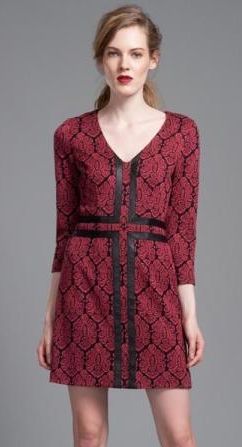 The colors of the season are a bit muted this year, with taupe, browns, winter whites, many shades of gray (yes, pun intended), dark blues, and black taking center stage for everyday wear. However,t here is a new kid on the block that dared to break out from all of the neutrality and scream "HEY, LOOK AT ME!"..oxblood. Now, before you think that yours truly has watched one too many episodes of CSI and lost her marbles, let me assure you that I am being totally serious. It really does look better than the name would suggest. See for yourselves!
This next trend has me positively giddy..HATS! Glorious, wonderful hats in all shapes and sizes ranging from the classic fedora to the perky newsboy cap. They are in, they are hot, they are the 'must have' winter item..and definitely not meant just for keeping your noggin warm. Go on, what are you waiting for..you know you want to do it. Go buy yourself one or two or a dozen!! SCRAM!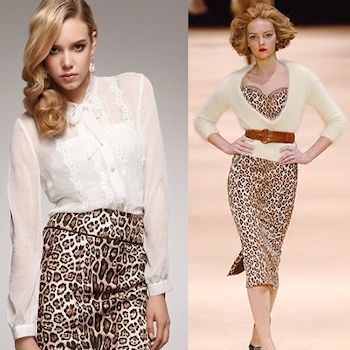 Meow!!! It's the season of the feline..leopard to be exact. The runways were practically crawling with leopard-inspired prints on everything from dresses to scarves to the proverbial handbags and shoes. You can either choose to go bold or add just a little touch, but this trend is definitely one worth sinking your claws into post haste!
Another really cool trend for the upcoming season was shearling. Sorry, PETA and animal activists, I love our furry little friends as much as the next person..but I adore this trend! It's warm, cozy, with a bit of a retro vibe..what's not to like?! For those of you wondering "What's Ari blabbering about now"..shearling is a sheepskin or lambskin pelt that has gone through a limited shearing process to give the fibers a uniform look and feel. This season it's all over the runway..from jacket trim to boot lining and beyond. This is one trend that yours truly will definitely not be missing!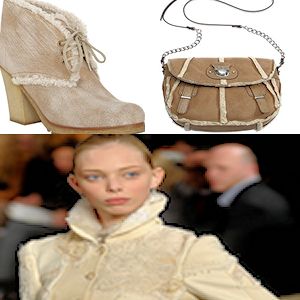 Now that we know what some of the newest trends are, it would be a darned shame to end up on the wrong end of the fashion radar because of some silly faux paux which, face it, we have all been guilty of a time or two. Merlin knows, I have! To save us all from having to do the 'walk of shame', I've done my homework and come up with some handy tips on how to avoid some of the most common mistakes people make when getting all dolled up for that holiday get-together. Here we go!
1. Wearing too much glitz - You know you've done it! A dazzle here, a razzle there, and pretty soon you're a walking freakin' disco ball straight out of some Saturday Night Fever rerun. It's like a bad addiction. Stop already! Seriously, beading, metallic, and shimmer are fine for the holidays..in moderation. But overkill of even a good thing is never wise. It can be overwhelming, cheap, and just plain silly looking..and we certainly don't want that.
Start small, maybe like a handbag or belt. If you do opt for the embellishment on your clothing, make sure that the scale fits your body proportion. Big sequins, for example, can overwhelm a small frame. A general rule of thumb to remember, also, is that sequins, studs, and the like, look classier and more 'expensive' on a simple background of black and white..just saying. And remember, nothing says 'look at me' like sparkle and glitter so make sure its a part of your body that you want emphasized. If you're trying to hide your hips, for example, my strong suggestion would be to walk away from the studded rhinestone belt..no matter how tempting it may be!
2. Showing too much skin - Oh shut up, already! Silencio! I can hear you from hear! I am NOT a prude! I'm only passing on what countless others who are much more knowledgeable in the ways of fashion have already said. Thigh-high miniskirts and cut-to-the-navel dresses may look great on the runway, but in reality they are a lot harder to carry off without looking...ahem. Leaving a little to the imagination is a good thing, Ladies..an air of mystery, if you will.
An unexpected peek of lace, off-the-shoulder look, a 'ragged' hemline..all ways to create the illusion of allure without being blatant about it. You could also go the femme fatale route of classic red lipstick, shoulder-duster earrings, or use different fabrics such as silk to enhance the look you are trying to create. Sexy..not sleazy wins out every time.
3. Over accessorizing - For Merlin's sake, show some restraint! You don't need to throw on every piece of jewelry you own when the party invitations start rolling in. Resist the urge! While layering jewelry pieces is a good thing, looking like a walking display for Tiffany's is not!
4. Dressing uncomfortably - Sure you want to look good; sure those stilettos are killer; sure that skin-tight dress looks slammin' on you..but you can barely stand, much less dance, eat, or anything else that goes along with 'party'..you know, the reason you got dressed up in the first place! While you want to look your best, be realistic and use a bit of common sense. Just like you wouldn't wear an evening gown to a picnic, don't wear something that is going to have you in major pain by evening's end merely for the sake of fashion. Sure, one has to suffer for beauty, but you have to draw the line somewhere!
And there you have it, Ariella's holiday guide to all things fashionable. Hopefully I've given you some things to think about..or at the very least, a reason to go shop! Happy holidays, everyone!!