Claymore by Norihiro Yagi
May 2012
Lisette Westerveldt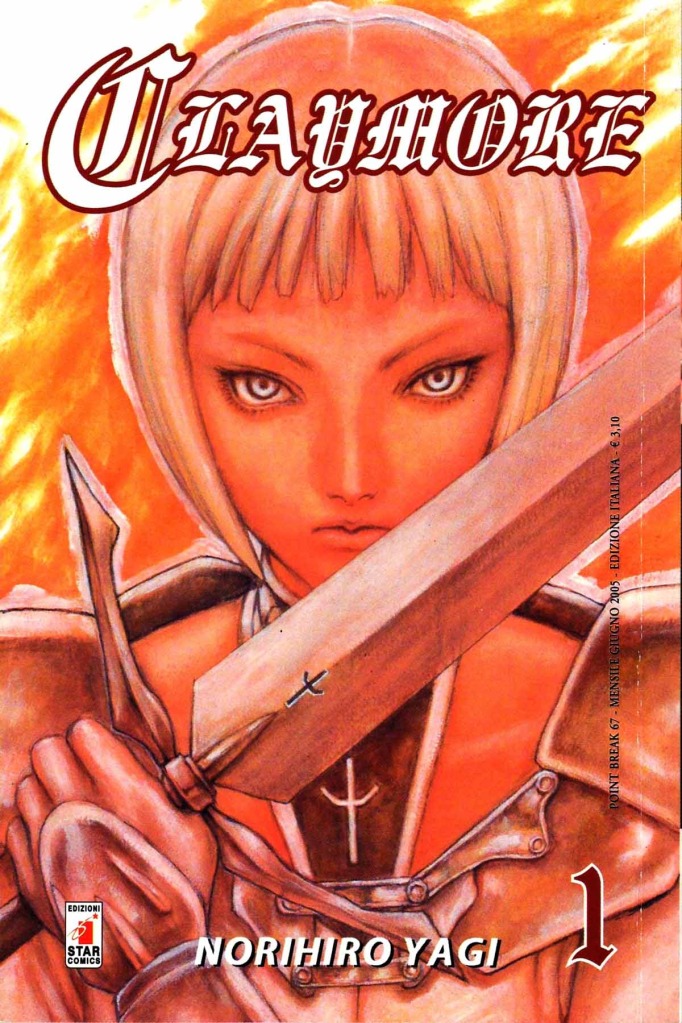 Let me just start by saying: I began reading this manga as a way to pass the time. Despite some of the glowing reviews I had read online, I did not have particularly high expectations. Instead, I was bored to death of the love triangles and melodramatic breakups that so frequently pervades the shojo genre, which is why I decided to turn my attentions to another area of interest, action, adventure, and blood and guts galore. However, my feelings changed quickly once I realized what a gem this manga is
But before we go any further, let me tell you a bit about the story.
Set in a medieval, futuristic world, Claymore starts off as your typical science-fiction dystopia. The current state of the world is a mess. Life is falling apart, as the island in which the manga takes place is becoming more and more overridden by Yoma, demonic shapeshifters that feed on humans. Extremely powerful and capable of taking on a humanoid form, Yoma are incredibly hard to spot and even more difficult to kill.
The only ones who are capable of doing so are the Claymores. Distinguished by their silver eyes, Claymores are sword-wielding female warriors trained to fight and destroy the Yoma of the world. Created when a human takes the flesh of a Yoma into her body, Claymores are half-human, half-demonic beings, gifted with the exceptional strength and agility of Yoma blood. Despite their jobs, they are widely feared and disliked by people, often held in the same regard as Yoma themselves. There are 47 Claymores in total; each is assigned to one of the 47 districts on the island. Ranked by their skills and leadership abilities in relation with the other warriors, being a Claymore is thus a competitive and brutal line of work, where the unofficial motto is "kill or be killed."
Now enter in Clare, the 47th ranked Claymore. Relatively new and still inexperienced, Clare is nothing special. Except for the fact however, that she is only Claymore in existence to have taken in the blood and flesh of another Claymore instead of a Yoma, making her a a quarter-demonic as opposed to half. While on the job in a small, mountain village, Clare meets a boy named Raki. It is this fateful encounter that spurs a chain of events, all of which you can read and find out about it if you read the manga.
Exciting and action-packed, Claymore is a fast-paced manga, guaranteed to hook you in right from the bat. Though the storyline is not the most original, the artwork and phenomenal character design do more than make up for it. I can't even begin to tell you how many times I paused while reading it to admire the stark brilliance of Norihiro Yagi's work or to gasp in silent horror of the bloody and oh-so-haunting fight scenes.
So yeah, go read it! And on that note, I shall conclude this review with a quote from the manga. "This is why I can't stop being a monster."