Blood Red Road by Moira Young
May 2012
Prof. Jenna Hathaway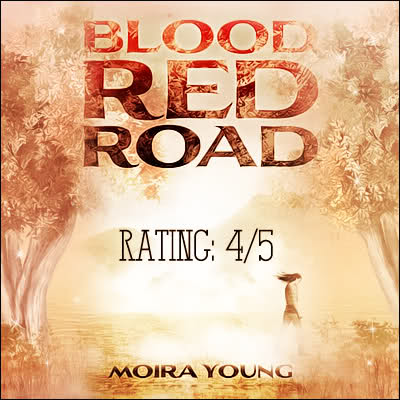 I was prowling some dystopian book reviews in GoodReads when I saw someone there recommending this book. Blood Red Road is not so much dystopian as it is an epic adventure, to be honest. Sure, it's allegedly set sometime in the future where most of the earth has been turned barren and people have reverted to a medieval-like means of living—no more cars, technology, and stuff like that—but I think the whole backwards era thing only added to the epic adventure feel. The story tells the life of Saba, a girl who's been living with her family in a barren land while barely ever meeting another person that's not related to her. At least, not until the day a group of strange people on horseback came to their little secluded corner of the world and took Lugh, Saba's twin brother, and killed their father.
And so Saba's journey to get Lugh back started. She plans to leave her younger sister, Emmi, with someone she trusts so as not to slow her down, but of course things happen, complications arise, and there are more challenges than she could imagine preventing her from getting to her twin in time to save his life. The book is definitely fast-paced and action-packed enough to keep you entertained along the way, but it takes a bit for me to get used to it.
One thing I have to warn about is the unusual writing and language style of the book. Saba doesn't know how to read or write, so her language is very crude and simple, and you have to overlook all the grammar and spelling stuff because they'd be pretty much nonexistent. Also, there are no quotation marks, so sometimes it can be a bit hard to tell if it's a dialogue or a narration. At first this worried me, knowing that I will have to tolerate it not only for the whole book but also for two more (because it's a trilogy), but I ended up getting used to it pretty soon. Soon enough you won't even notice the weird language and the lack of proper punctuations. Mostly because the story is too engaging. There's almost no boring part and it's hard to put down.
All in all it's a satisfying read, so for all of you who enjoy this type of quest/adventure tale, it comes highly recommended.