Strike a Pose
December 2015
Ariella McManus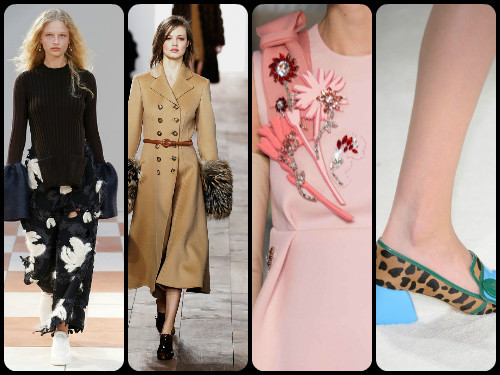 Welcome, everyone, to Part Two of the Fall (and now Winter) Fashion Special! This time, we're going to try to focus on both cozy, sit-by-the-fire trends, as well as the eye-catching looks for those holiday parties. So what are we waiting for? Let's get started!
The first trend we'll discuss is sleeves. This is actually a dual trend, depending on which way you want to go. We have the overly long sleeves, perfect for the days when you forget your gloves or to protect your hands from a too-hot mug. These sleeves combine the aesthetic of the boyfriend coat/jacket and the sheer fun of an oversized sweater, making them a great transition piece or a casual holiday look. Just don't bake cookies in them, or you'll be shedding sugar everywhere you go.
The other sleeve trend are huge cuffs, preferably the fur on jackets and coats that were on all the runways this year. And I do mean huge. Some of these cuffs are so long that the designer just decided to go full sleeves! But it's a great minimal commitment to the fur look and, unlike some fur vests, you can avoid looking like you have a muppet giving you a hug. And it's a fast way to look chic when the cuffs are on a nice plaid coat. For a true Russian royalty look, avoid the full sleeves--that's more edgy and bohemian. Instead, stick to the true cuffs or even a wide, fur collar to impress everyone at that holiday work party.
Coats aren't the only thing getting extra detailing. Bling, after seasons of being oversized and minimalist, is getting its flirt on. We are talking sparkles, big earrings, and floral notes, and sometimes even all three in one. And the best part is? You don't have to go shopping for this. Broaches were everywhere this year, and, if you have family like mine, I bet you could dig through Grandma's jewelry boxes and find something to pin to your coat or shirt. Just remember to sparkle responsibly, and remember Coco Chanel's rule. Or ignore it and dazzle like the sun isn't taking short shifts this time of year.
Finally, let's take care of our feet, and I mean that literally. After stilettos reigned supreme, it's time to come down to earth, almost. We still want to look nice for that New Year's party, right? But instead of trying to break our necks, let's go with a stacked kitten heel, like so many designers did. These heels provide enough lift to give you style, but they are sturdy, as well, as you dash from shopping to partying. And they come in so many nice styles, from ultra-girly to minimalist to glittery showstopper and everything in between.
Go out and put on your own fashion show this holiday season! Next time, we'll discuss unique make up looks, so keep an eye out for that!