Flypaper
November 2011
Zoki Phantom (Hufflepuff)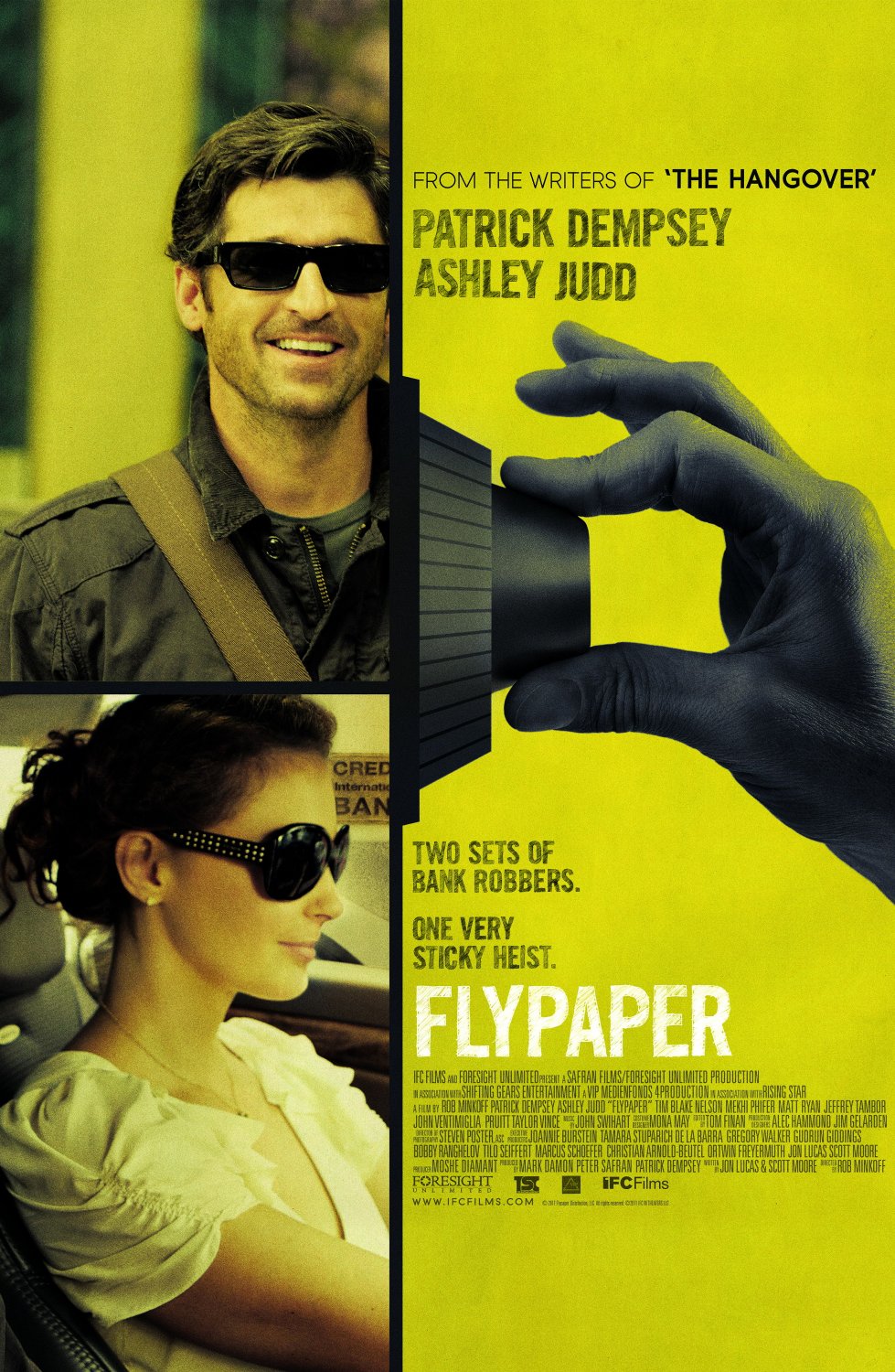 A well planned robbery, a decent amount of humor, and a girl involved in all of this – you'd almost think that I'm talking about The Italian Job. But no, this time, seven years after that movie, we are talking about another mastermind plan presented in the movie Flypaper. Written by Jon Lucas and Scott Moore (the writers of Hangover) and directed by Rob Minkoff (The Lion King, Stuart Little, etc.), you could obviously expect some cool plot and lots of laughing material through it.
As the movie begins, and the quick flirting between Tripp (Patrick Dempsey) and Kaitlin (Ashley Judd) ends, two separate groups of robbers get inside the building and announce that they're here to rob it. Although this was right before the bank's closing time, the employees don't get to go home as the robbers come up with an agreement to work together and split the money, and thus everyone ends up locked down in the bank as the robbers get down to working on the vaults.
But of course something needs to keep the audience alive and watching, and that's where Tripp comes in, our obsessive-compulsive hero who tries to figure out what's happening and to "save the day." But the thing is, there is more than just two robberies happening at once, because as Tripp finds out, everything is just too messy and complicated to be a coincidence. But who is behind all of this and why are they all in that bank at that exact time? Well, I guess you won't find out if you don't watch it.
It might not be exactly the movie that anyone could sit and watch, as the movie slightly "struggles" on all sides and I'm sure you'll have a hard time deciding if it should go in the "Mystery", "Crime", or "Comedy" genre, but it's still not a waste of time. The whole cast is decent in general, and they alone should be a good enough reason to get you situated in front of the TV watching this, but if that's not enough well add the whole behind-the-scenes crew and voila – you've got yourself an even better reason.
At first you may have the feeling that it develops too slowly or you will fear that it will be boring till the bare end, but it's only weak until the real fun starts, and once the shooting sounds echoes in the bank, you'll be right behind Tripp's tail, trying to figure out the puzzle before him. You'll feel like a modern version of Agatha Christie, giving your best to find the man who is responsible for the whole mess. But no worries, the dorkier group of robbers and the weird hostages will keep you amused and going till the end of the movie.
It might not have a splendid plot like Hangover, and it might not be one of Minkoff's best pieces of work, but it's definitely worth watching! And admit it – wouldn't you like to find out who gets to live and who runs away with the money in the end? Well you know what to do if your answer is yes!