Strike A Pose
October 2012
Ariella McManus
Ah! The crisp fall weather, the changing of leaves, the delicious aromas of autumn harvest...just some of the many reasons I LOVE this season. I have, of course, saved the best for last...NEW FASHION!! That's right, my lovelies, it's time to start packing away the summer swimsuits and shorts and start thinking about the latest and newest trends for the upcoming fashion season. With the help of some Muggle friends and with a bit of my own magic know-how, I have managed to gather together a list of the latest fads to hit the runways. While we certainly prize our intelligence first and foremost here in Ravenclaw, wrapping it up in a fashionable package never hurts, for Merlin's sake! Without further ado..
Gowns with High Draped Necklines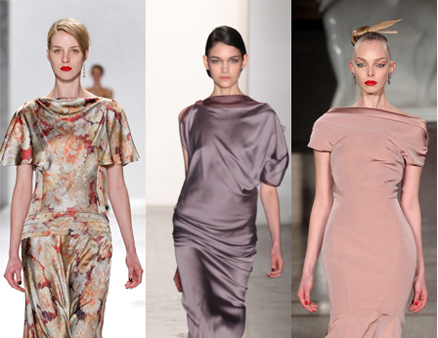 With the coming of Halloween, the 'holiday party season' is among us, so best be prepared! Never fear, this latest trend will flatter any body type and is suitable for a wide variety of occasions. Dramatic and feminine, it is romantically draped, in fabrics of varying patterns ranging from solids to pretty florals and everything in between. The style is body skimming but not tight, and fashioned from satin or silk. Delicious!
Lady in Red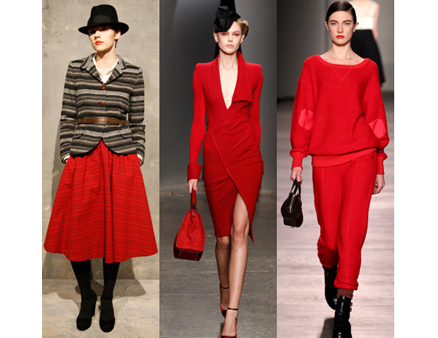 Red is the 'new black' this season. It's the must have color of the season, ladies! But never fear..if you're not the 'in your face' type, simply add a red accessory for a pop of color with a neutral outfit and you're good to go. Another way to play up the red trend is red and black tartan, which was another 'biggie' on the runway this year.
Black and White Suits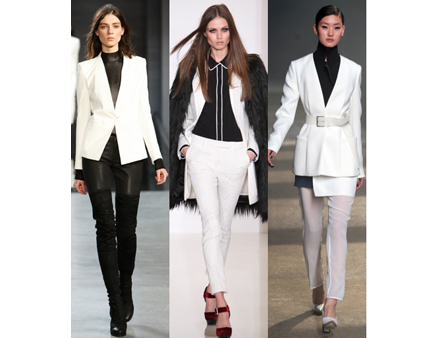 In the spirit of Coco Chanel, black and white is super chic this season. (I am so thrilled to see this, as it is one of my favorite combinations.) Breaking with the old fashion 'rule' that white cannot be worn after Labor Day, this trend flaunts stark white with sharp black for an avante-guard, yet polished and timelessly classic look. In keeping with the 'theme', white dresses and varying patterns of black and white are also 'musts' this fall fashion season. A true winner and a fad that I hope stays around for many seasons to come!
Wide-Brim Hats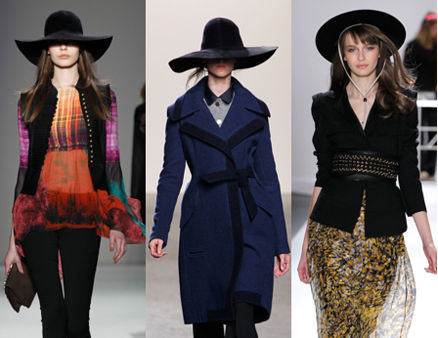 Let me start off by saying that I simply adore hats, and I fell in love with these from the moment I first laid eyes on them. Inspired by the continuing retro look of last season, these 1970-esque pieces are uber-cool, vaguely 'mysterious', and practical to boot. Made from wool felt, they embody the best of 'yesterday' without sacrificing the modern edge of today.
Bohemian Rhapsody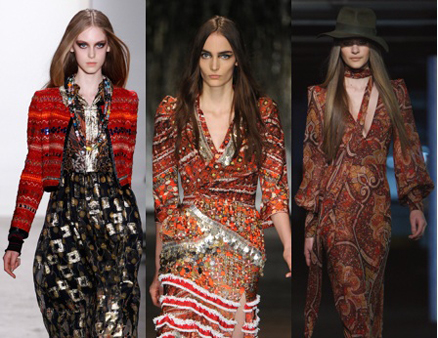 The 1960's seems to be the era that refuses to die..and from a fashion perspective that is a good thing, in my opinion. 'Hippie chic' continues to be a big seller, and this season's runways were ablaze with a variety of retro print dresses torn straight from Woodstock (cut with a modern edge, of course). Pair them with a tailored, boxy jacket or shrunken-leather motorcycle outerwear and you're sure to impress everyone from Soho to Abbey Lane.
Shades of Grey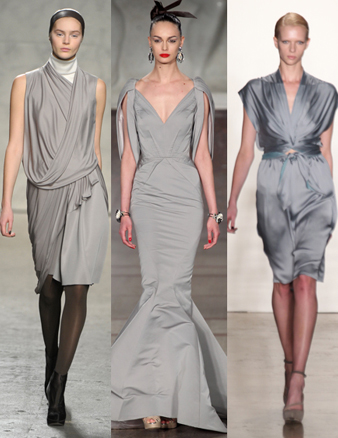 Grey is one of my favorite colors. A little softer than black, it is perfect for those times when you want a less severe look, and with its wide range of shades there is one to compliment every skin tone. The 'shade' of choice this season is pale slate. I beg you to look beyond your first impressions of this seemingly austere color and consider the drape and fit of the garment before dismissing it. The fabric (especially soft jersey) can make all the difference in the world. I promise you, this 'shade of grey' is anything but boring.
And there you have it, my dears, the 6 hottest looks for fall! Now I am off to shop..so see you next time with more tips and trends.