Cassie's Convention Corner
October 2012
Prof. Cassandra Lobiesk
I feel like it's only been yesterday since I've gone to one of these conventions...oh, wait, it probably has been, what with Comic Con just finishing up its run in New York City. I can't say that after four conventions that I'm already an expert, but since I'd done two this year, I thought I ought to share what I've learned from the experience!
But first, let me do a little clarification:
What is a convention?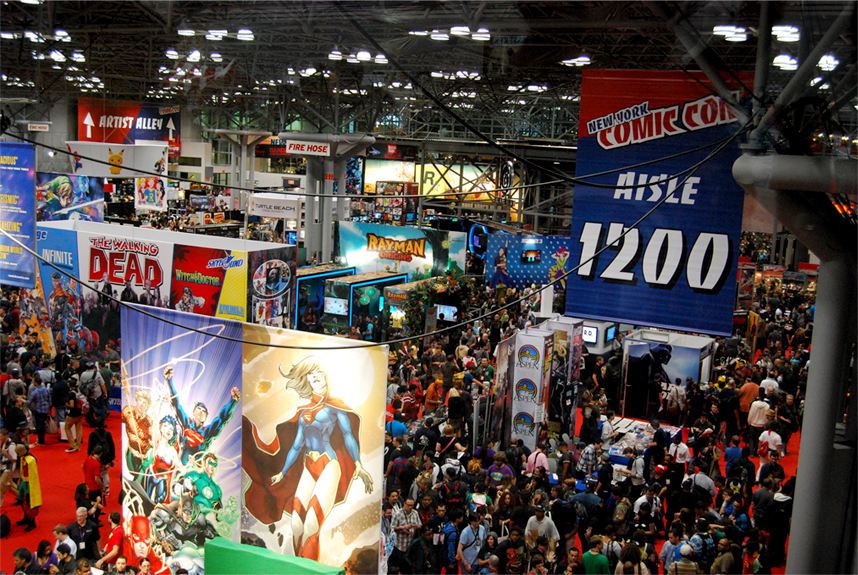 There are different types of conventions. All of them tend to revolve around. These interests could be for anything, really. It could be as general as a fantasy/scifi and comic convention or as specific as a Harry Potter and Doctor Who convention. It might even be for professionals who enjoy a certain type of historical period (Victoriana, medieval times, etc.) or a certain type of food (I would love there to be a cake convention nearby, actually). The important bit is that whatever these conventions may be, it's something the people all love.
For the sake of familiarity, however, I will only be focusing especially on the cons I've been to (namely Comic Con and Dragon*Con) , else we'll be here a long time.
What is a fandom?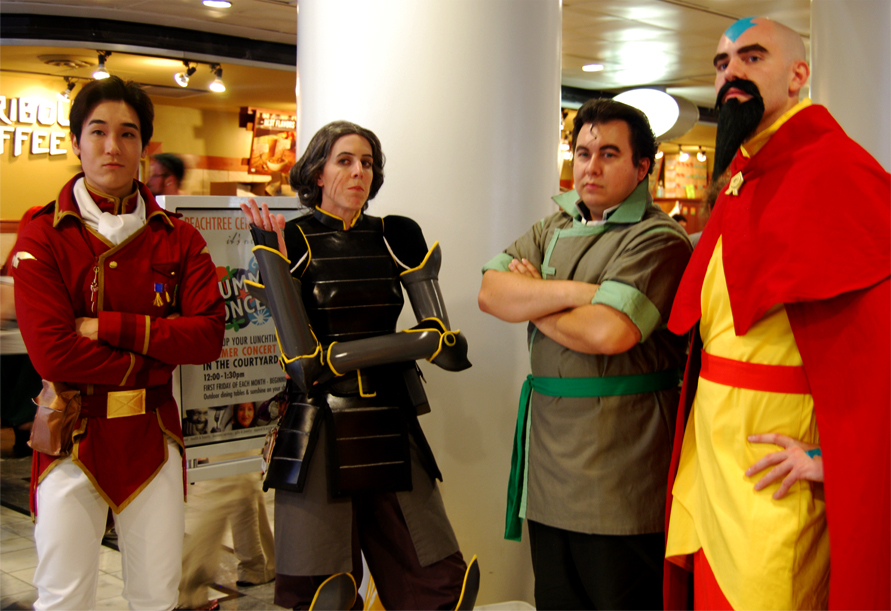 A fandom is a group of people who are fans of a particular interest or activity. Harry Potter has a fandom, the Lord of the Rings has a fandom. Particular TV shows, movies, books, comics, video games. These all have fandoms. Celebrities have fandoms.
What is Comic Con?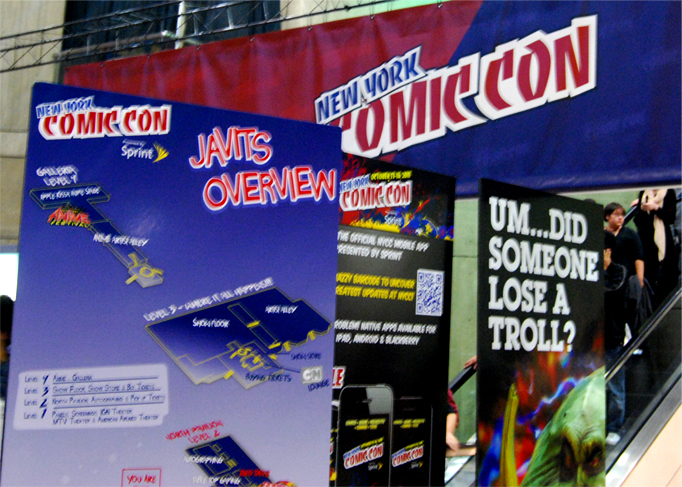 Comic Con is a fan convention that encompasses pop culture within movies, TV, video games, books, graphic novels, anime, manga, and, obviously, comics. The New York Comic Con is probably one of the biggest--if not the biggest--pop culture conventions in the East coast. Probably one of my favorite things here is that most vendors are more than willing to hand you free swag whenever you pass by their booths. I've got a bag full of sample comics and autographed memorabilia after spending just one day at NYCC. More notably, the publishing booths are to die for (understandable, considering the biggest publishing houses are situated in New York). But that's probably my inner writing/book geek talking.
What is Dragon*Con?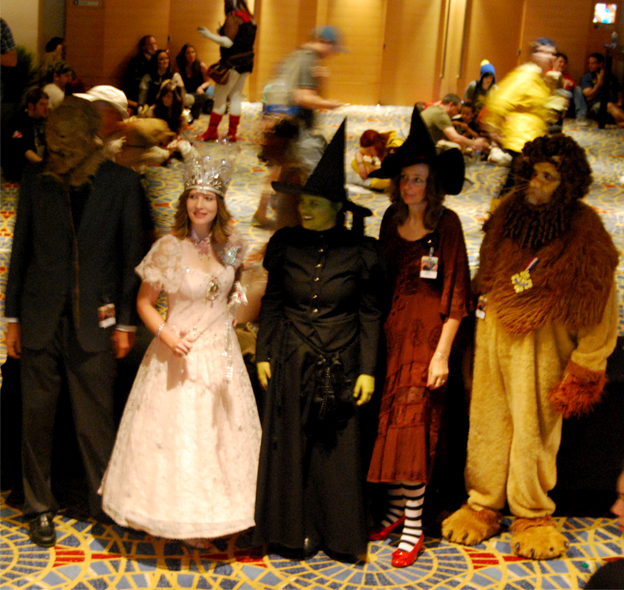 If you think Comic Con is large enough, wait until you get into a broader, multi-genre convention like Dragon*Con. Now, if this convention isn't the biggest on the East Coast, I'd like to know what is, because when I went down to Atlanta for this specific event, I was blown away by the fact that it had to host its events in five frelling hotels. Dragon*Con is predominantly a fantasy and science fiction fan convention. However, it doesn't just end in just fantasy and science fiction. It's also about the pop culture that Comic Con holds. So technically Dragon*Con has everything that's in Comic Con and much, much more.
Now that I've illuminated you with the basics, here's a few important things you might want to know about having a successful--or, at least, good--time at both cons.
How to Enjoy, Survive, and Not Get Mauled Over by Angry or Agitated Fans at Conventions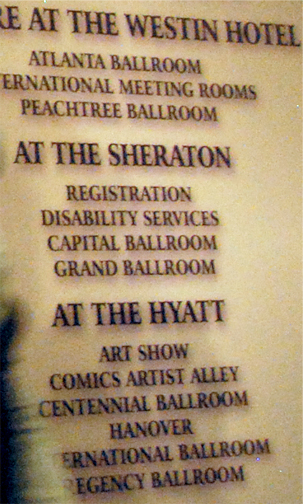 Maps
Always be aware of where you're going. This could be done by keeping maps with you, or knowing where the directory is at a specific place. Finding a particular vendor or panel could be easily frustrating if you realize you're on the wrong floor or--in Dragon*Con's case--the wrong building. If a printed out map is too cumbersome for you, the conventions usually have apps for your Smartphone, which includes maps of the convention areas. Take advantage of something like this. Know where your maps are.
Schedules

The thing with these conventions is there will always be multiple panels and events going on at the same time. You might want to line up and get an autograph from an author or celebrity, only to find out that there's a panel or game you want to go to happening simultaneously in another room. If you don't want your brain to explode due to this overwhelming amount of things to do, I urge you to take a look at the schedule for the day. You want to be able to prioritize, pick and choose, and in the case of an event being cancelled, closed, or overcrowded, have a backup plan. It doesn't take long to plan ahead, and it certainly lessens the amount of time you'll spend on indecisiveness the day of the convention.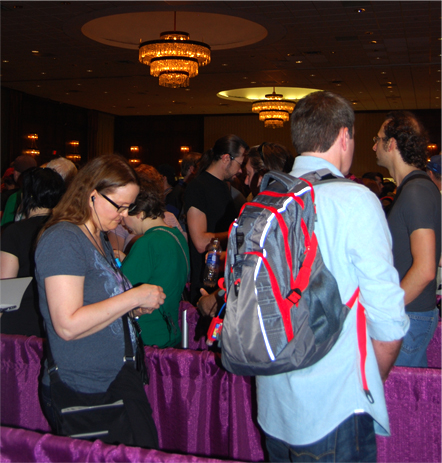 Queues
Depending on the popularity of a particular fandom, panels and/or autograph sessions will be packed with people. Fans even show up an hour or two in advance in order to queue for a panel or session. So if you plan to attend a panel with a famous actor or a popular video game, etc., be aware of the queues entailed. I can tell you right now, for Comic Con and Dragon*Con, fantasy and science fiction shows like Game of Thrones, Once Upon a Time, Battlestar Galactica, and Doctor Who are going to have queues that can reach around a building. Even the appearance of voice actors in video games might be a big deal for the gaming fandom, and trust me, there will be a queue just to see the voice of GLaDOS sing about cake.
Food and Budgeting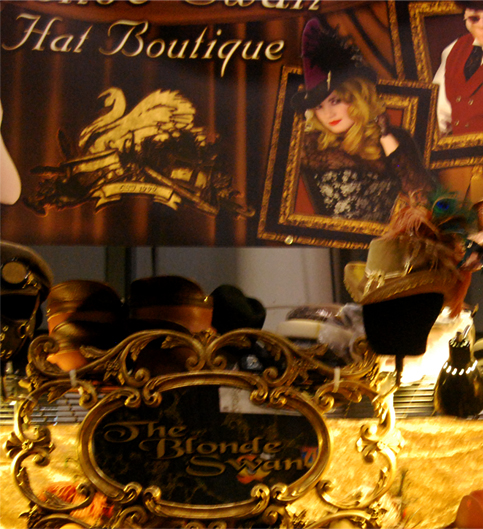 Know how much you're willing to spend on anything. This includes the food you'll be having. Conventions are pretty good about keeping their guests fed, but that doesn't mean they're willing to feed their guests for free. Chances are the food they are selling is overpriced and not worth the money. There are alternative ways to snack and chow down. Go outside of the convention building and find a store or supermarket. Or, bring food with you. Don't be surprised to find con-goers sitting in their queues with food on their laps. In the same vein, if you plan to buy anything in the convention, take some cash with you, but keep a limit in mind. There might be numerous things you want to buy, so your budget can easily dwindle down to negative numbers if you don't watch what you're doing.
Swag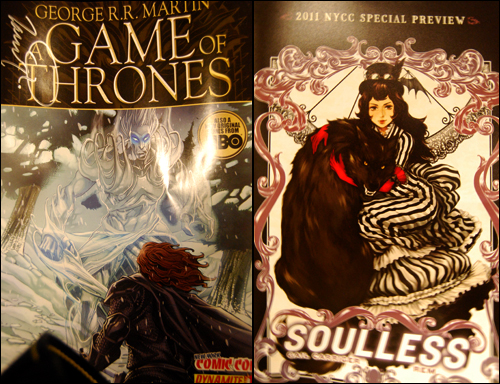 Depending on the vendors littering the convention areas, you will undoubtedly run into freebies. Independent authors and artists in their booths could be handing out promotional items and even autographing them. I tend to hover over the publishing booths for a great deal of time, only so I can catch them giving out new author galleys and/or are hosting author autographs. Heck, I've managed to get the first issues of the Game of Thrones and Soulless comics in the Comic Con booths, autographed by the artists to boot! And believe me, those two things are only a small portion of what free stuff ended up in my bag at the end of the day.
Camera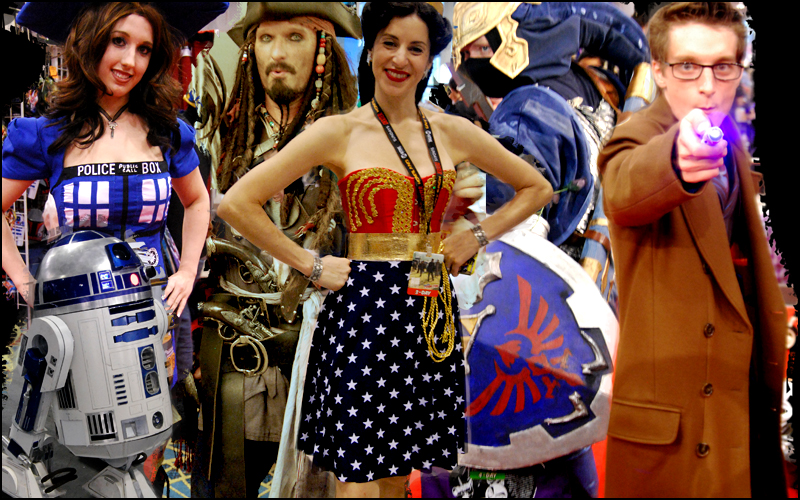 Why wouldn't you take a camera to Comic Con or Dragon*Con? Seriously. The amount of things happening--celebrity appearances, author signings, game showcases, and artistic displays--at any given point in time is numerous. On top of it all, you get the cosplayers walking around the convention areas with fantastic costumes of their favorite fandoms. You could find zombies walking down the hall, or a Big Daddy lumbering on a rampage. And if you passed by a couple of students and professors from Hogwarts, wouldn't you want to capture them in a photograph? Trust me, cameras are practically your best friend at fan conventions.
Overbooking
Finally, one more tip. Don't try to "do it all." Believe me, you will be missing a panel or session. But that's okay. Go to the ones you want to go to the most, and every so often, take a breather. A full Comic Con or Dragon*Con experience isn't complete unless you're also exploring the area and seeing what the entire convention has to offer. So unless your plan is to attend panel after panel or session after session, take some time off panel-hopping and walk around the vendors and gaming booths. You might even find some new interest. Heck, you might even be able to meet new people who share your interests!