A Guide in Choosing Cereal
March 2012
Lisette Westerveldt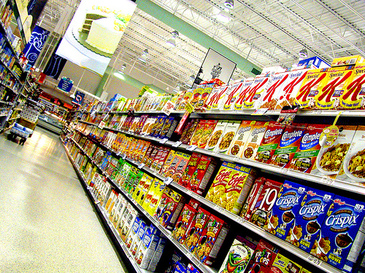 Like many of you, I'm sure, I eat cereal for breakfast. And as a snack or when I have late night cravings. But that's beside the point.
The point is, cereal is convenient; it requires little to no preparation, is relatively inexpensive, and is light but filling. It is, essentially, the perfect breakfast food.
And so, because of this, choosing what kind of cereal you eat is very important. It is after all, the most important meal of the day.
Ideally, a cereal should be healthy and delicious—high in nutrients but low in fat, sugar, artificial flavoring, preservatives, and fructose corn syrup. However, as I'm sure you have all experienced at one time in your life, there are a lot of cereals that are extremely healthy, but taste like cardboard. And vice versa, there are obviously several brands of cereal that are the exact opposite; delicious but not healthy.
As the case always tends to be, you should therefore find a balance between the two. Even though cereal is designed to energize you, which makes it high in carbohydrates and sugars, it shouldn't be too high in sugar because it can cause you to crash later in your day. And even though the amount of calories, nutrients, and protein are important things to look out for, eating breakfast shouldn't have to be something you suffer through every morning. So with this in mind, here are a few recommendations and tips to make your cereal choosing easier.
Recommended
The healthiest types of cereals tend to be whole-grain or high in fiber. Most of these however, also tend to rank low on the taste department. Here are a few that manage to taste well without sacrificing their nutritional benefits.
Wholegrain Cereals
The fiber that is present in wholegrain cereals increases your feelings of fullness, thus preventing hunger cravings that tend to occur throughout your day.
Examples: Cheerios (Honey Nut, Multigrain, Regular), Golden Grahams, Mini-Wheats
High-Bran, High-Fiber Cereals
Wheat bran and fiber are helpful in aiding digestion. These kinds of cereals also have no trans fat and little to no added sugars.
Examples: Fiber One, Back to Nature
Tips for Eating
- Mix fruit and nuts with your cereal.
- Mix a healthy cereal with a not-so-healthy one. You'll get improved taste and better nutritional benefits.
- Eat cereal with milk.
- Switch the brand of cereal you eat on and off every other day. On one day, eat a healthier one. Then the next day, eat a not-so-healthy one. This way, you won't get sick of eating the healthy cereal.
Tips for Shopping
- Pay close attention to the nutrition facts and serving sizes on the cereal you buy. Even though a brand of cereal may not seem too high in calories, it may be because the serving size is small.
- Look closely at the ingredients. They're listed in descending order by weight. This means that the ingredients present in the largest amount are listed first. Obviously, don't choose cereals that are high in corn, sugar, flavoring, preservatives, and high fructose corn syrup.
- Also, look at the number of ingredients. Cereals that have fewer ingredients tend to be less processed than the ones that have a lot.