Strike A Pose
March 2012
Ariella McManus
It is often said that clothes make the man. That may well be the case, but having the correct hairstyle can play a big part in your 'look' as well. Nothing says 'fashion disaster' worse than having a worn out, blah haircut, no matter how good the clothes are. Fashion, people..it's a fickle game! Of course, being the 'witchionistas (fashionistas in magical terms..get it *wink*) that we are, we need to stay on top of things like this. I've scoured near and far, spent countless hours pouring over muggle hairstyle books, and even suffered a bad dye job (hence the pink hair sticking out from underneath the hat), all in the hopes of learning the secrets to the cutting edge styles in hair for the upcoming year. And let me tell you, my friends, it was worth it...pink hair and all!
The keyword of the upcoming year seems to be retro..with a modern twist, of course. Everything old is new again, with a bit of updated flair. The biggest thing to remember is while it is tres' chic to let your look be inspired by the fashion (and hairstyles, in this case) of days-gone-by, replicating them exactly is a fashion faux pas, dahlings! So no running around with a Farrah Fawcett 'do or I will be forced to revoke your curling iron privileges!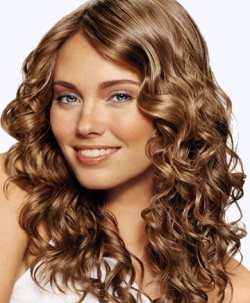 Curls
Long, gorgeous, bouncy, not-overworked curls are back in a big time way. Fun, flirty, and seemingly effortless, this hairstyle gives a polished but relaxed look. Inspired by the free flowing locks of the 1970's, this one is perfectly suited to the 'flower child' in us all.
French Twist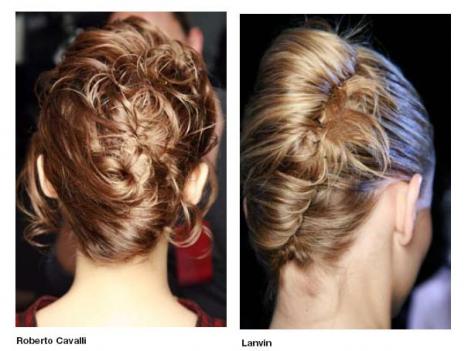 In keeping with the classic fashion revival, this look has enjoyed a resurgence in popularity. Perfect for either daytime or evening wear, it is elegant and timeless..a sure winner that never truly goes out of style. For those of you who are really adept at hair styling, there is also the alternative 'double French twist' that is equally popular these days.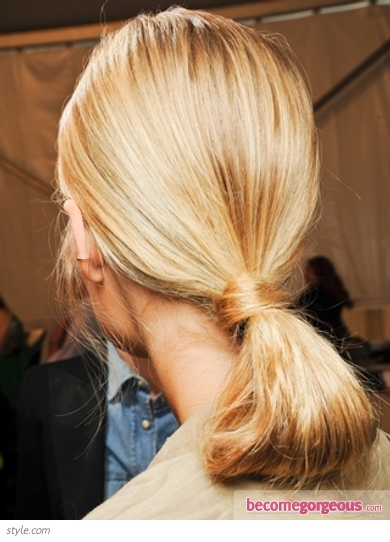 Looped Under Ponytail
Is it a bun or a ponytail? Neither! What it definitely is, is fun and youthful, with a nod to the equestrian inspired trend in clothing that we saw on the runway a few issues ago.
"Brigitte Bardot" Hair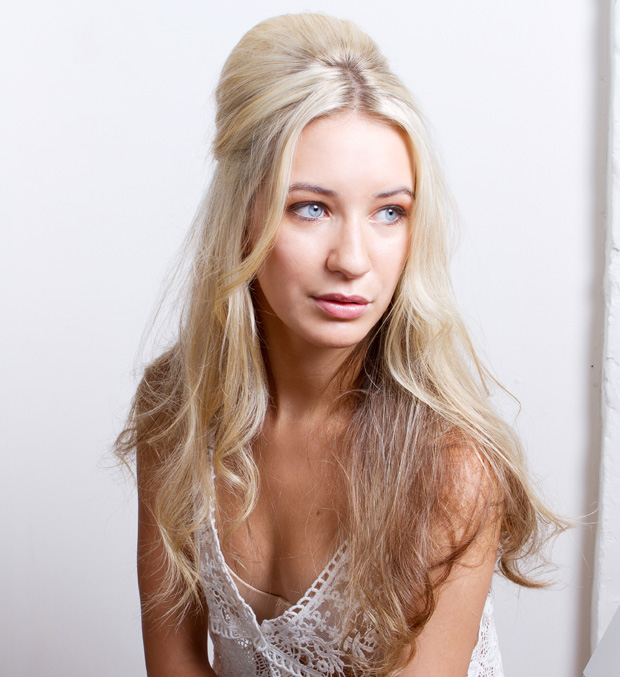 I warned you that retro was in, remember?! This one is flirtatious and sassy, yet perfectly suited to both evening and daytime wear. It can be as glamorous (dressed up with pins, jewels, etc), quirky (ribbons, flowers, etc), or as simply elegant as you choose it to be...much like the woman who inspired it.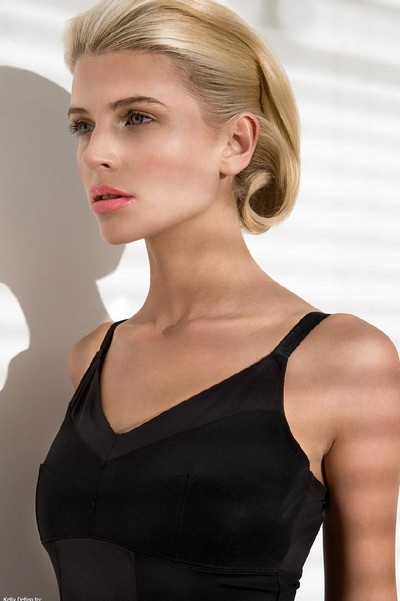 Retro Faux Bob
Welcome to Stepford! This look practically screams 'perfect', in all the right ways. Both as vintage as the 'wives' that first sported it and as modern as tomorrow, this look offers a pristine, cool level of 'done' that is extremely alluring and powerful. The woman who wears this exudes self-confident charm, equally at home in the boardroom or the kitchen. Take that, Stepford!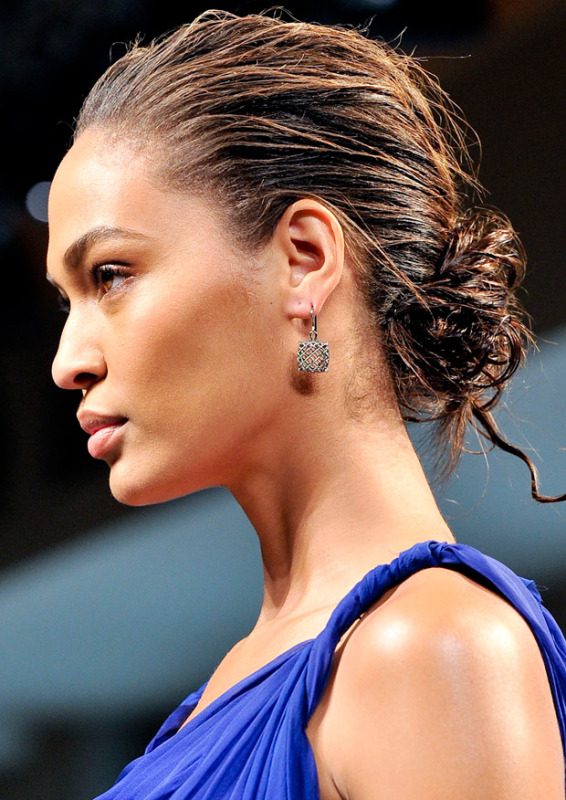 Wet Look Chignon
The wet look is definitely one of 'the' biggest trends in hair right now, so don't be afraid to plunge right in and get your fashion feet wet.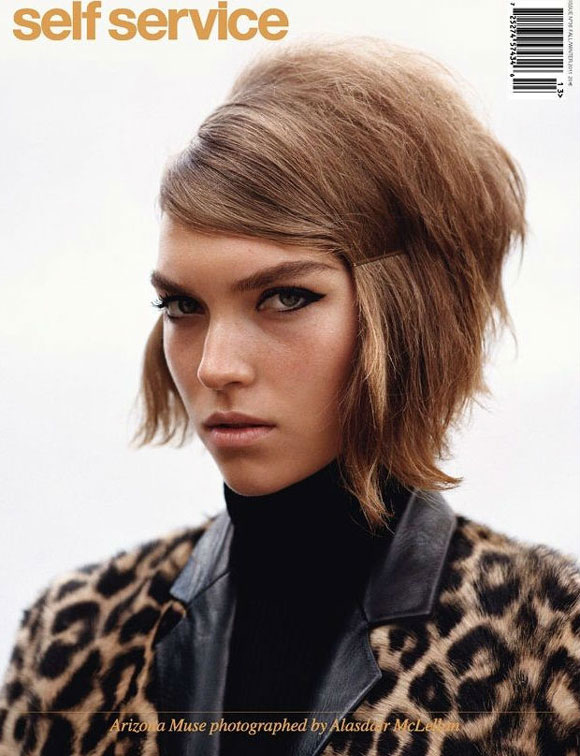 Mod Bob
Another nod to the 1960's, think Twiggy or Bardot with a bit of a modern hard edged punk vibe. For the record; I really like this one!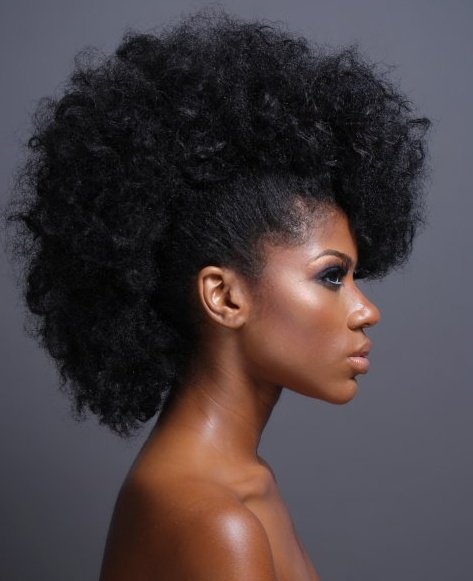 Afro Hair
As we saw with the clothing trend, the ethnic look is very hot right now. Combine this with the throwback to the 1960's and you have a super trendy combination!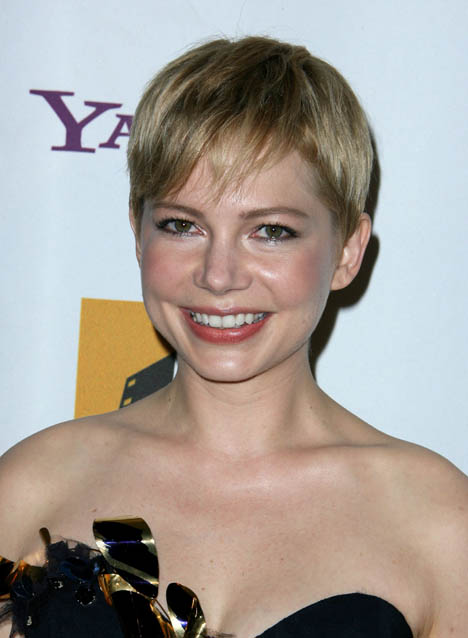 Rock Crop
Think Mia Farrow in Rosemary's Baby updated for the modern aesthetic and this is the look you get. Androgynous and yet ultra feminine at the same time, you get the best of both worlds. I cannot say enough good things about this particular cut, but then again, maybe I am a bit biased as this is the look my *ahem* mundane self chooses to wear.
And there you have it, folks, straight from the catwalk and salons to your doorstep.