Strike a Pose
October 2015
Ariella McManus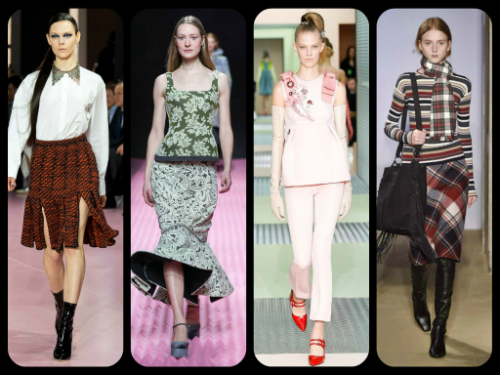 Hey, guys, and welcome back to "Strike a Pose"! This year, we're going to divide our fall fashion special into two parts for double the fun, so keep your eyes open next month for the continuation. But for now, let's get right into it.
Let's start off with one of the most striking pieces that walked the runways this season: the carwash pleated skirt. It may not sound fancy, but it's a very unique skirt pattern that hasn't been seen in a while. For those of you who are shy about showing a bit of leg, it's a perfect approach, with its peek-a-boo pleats that offer just a tease of skin. Plus, it's taking the fringe trend to a whole new level. Carwash pleated skirts come in a variety of colors and styles to suit everyone's taste. Want a black, silky number for a special night out? Or a tweed to make an impression at your job? Or maybe a cheerleader-esque number to add a little fun to your day? After all, these skirts have maximum twirl ability. (And yes, that is a real thing. At least in my world, and my world has no-calorie chocolate, so it's awesome.)
Another skirt trend, that's particularly good if you don't want to show skin, is the flouncy hem. Think flamenco dance hall, think saloon darling, think saucy Victorian, because this skirt just brought them all into the 21st century. Now, don't worry if that description gave you nightmares instead of daydreams, they range from way-out-there flounces to just a fun little kick up around the knees, so these skirts can work in even the most minimal and toned-down wardrobe out there. It's a total attention-getter and surprisingly suitable for a flirty date or a day in the office. I mean, why not have a skirt with personality?
Moving up from that to an old-fashioned accessory, I'm talking gloves. And I mean the full-on Audrey-Hepburn-at-Tiffany's, over the elbow, opera style gloves. We have one person to really thank for bringing this trend back and letting us all pretend to be a glamorous old-Hollywood star: Amal Clooney, wife of THE George Clooney, who wore them on the red carpet back in January and inspired all the runway trendsetters. Plus, it lets you get a little longer wear out of some of those short-sleeve blouses, before you have to put them up for good.
There are always repeats every season and this one is no different. Plaid is a perennial favorite, and it's not hard to see why. It's both smart and sassy. Not to mention that between farm boys, punks, and preps, it crosses all boundaries and inspires brotherly love. Okay, maybe not, but a girl can hope, can't she? This year there's a heavy focus on tartans, our lovely gift from the Scotsman, and if it's red and black, then it's just right. You can get plaid in everything, from boots to umbrellas, but the styles most stomping their way on the runway are the classic skirts and coats. So hey, you might already be on trend!
That's it for this month, but just remember, there's going to be more fashion fun next month with part two!