To Bruges and Ghent We Went, Part 1
April 2016
Prof. Silmarien Szilagyi
BRUGGE
After visiting Copenhagen and sampling some delicious Danish delicacies, my nephew and I moved on to Bruges (Dutch: Brugge). If you've seen the black comedy In Bruges, you probably noticed just how breath-taking the city is. It looks like someone plucked it out of the Middle Ages, cleaned it up a bit (or a lot), and dropped it in the 21st century. That would be a valid estimation, for the city is in fact medieval.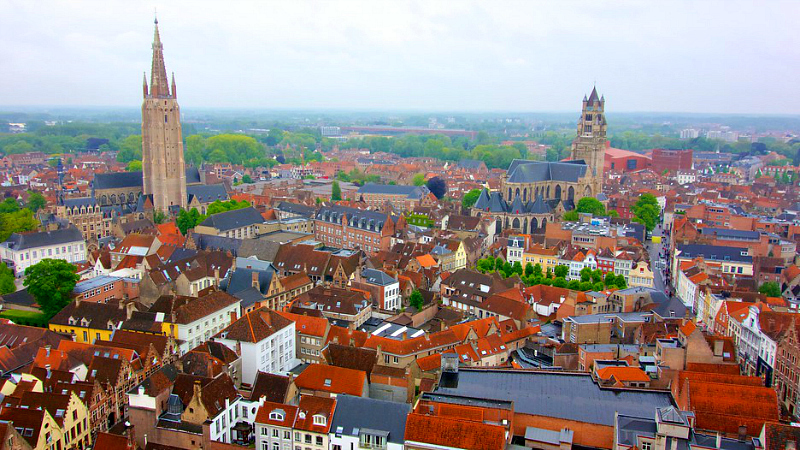 Situated in northwest Belgium's Flemish Region, Brugge is a UNESCO World Heritage Site that dates back to at least the 4th century AD. It was first properly settled by the Franks, who called it Pagus Flandrensis (Flanders), but it wasn't until the Middle Ages (12th-15th centuries) that it gained international prominence. This period is considered Bruges' Golden Age. Trade flourished due to its strategically located port along an inlet that was connected to the North Sea. Artisans and craftsmen flocked to the city, lured by the abundance of goods, such as practical wool and exotic spices from the Levant. It became both a commercial and financial hub, where the world's first stock exchange (the Bourse) opened in 1309.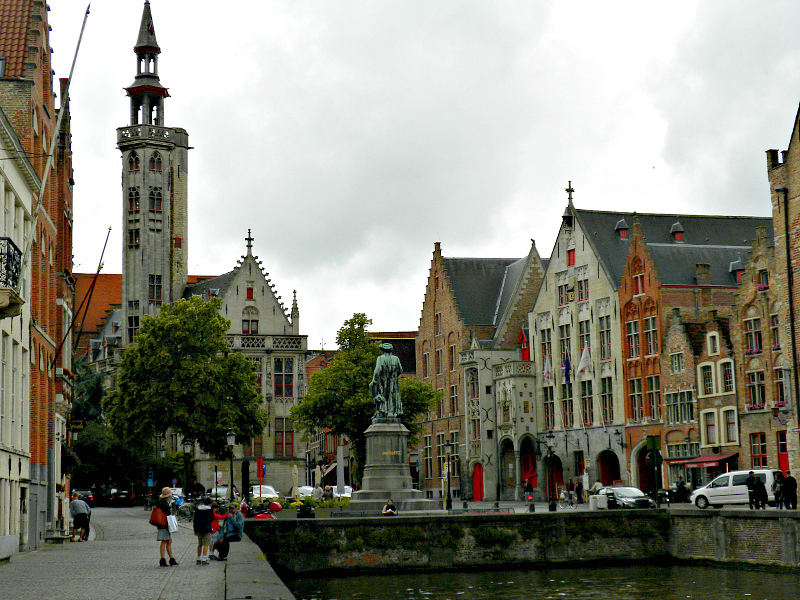 But, as old cities are wont to do, Bruges entered a period of decline that lasted about 300 years. Its fall from grace was so intense that the once-rich city became impoverished, and its population decreased by over half. And then more people started traveling for pleasure more often. Tourism became a booming trade, allowing Brugge to become one of the world's first tourist destinations towards the end of the 19th century. Rightly so, for it is truly a beautiful and magical city. It might thus be surprising to learn that it only receives about 2 million visitors per year, despite that it was named a European Capital of Culture in 2002.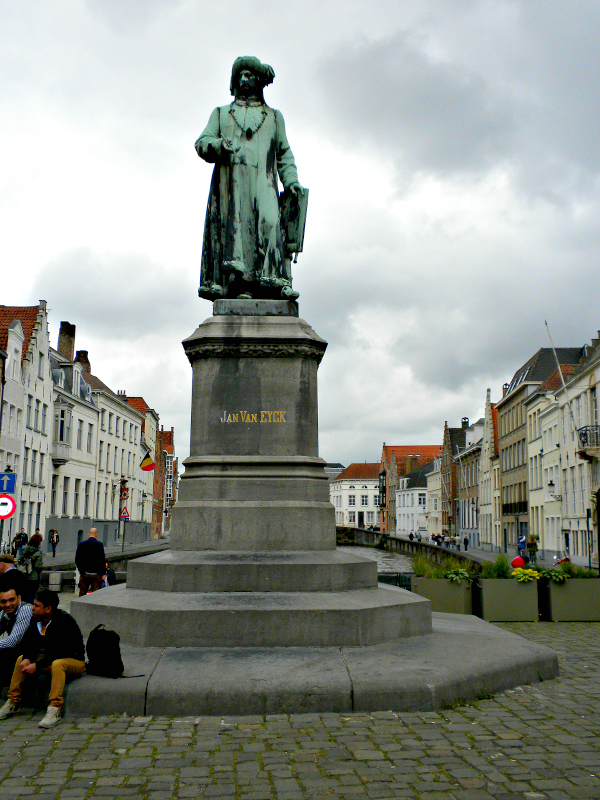 Bruges was special to me for many reasons. First, my maternal grandfather visited it while he was studying in Flanders before World War II. Second, it is an astonishingly well-preserved medieval city, and my bioarchaeological research coincides with Brugge's Golden Age (12th-15th centuries). Third, BELGIAN CHOCOLATE. But I'll get to that in a couple articles. For now, let us focus on Bruges' architecture.
Belfort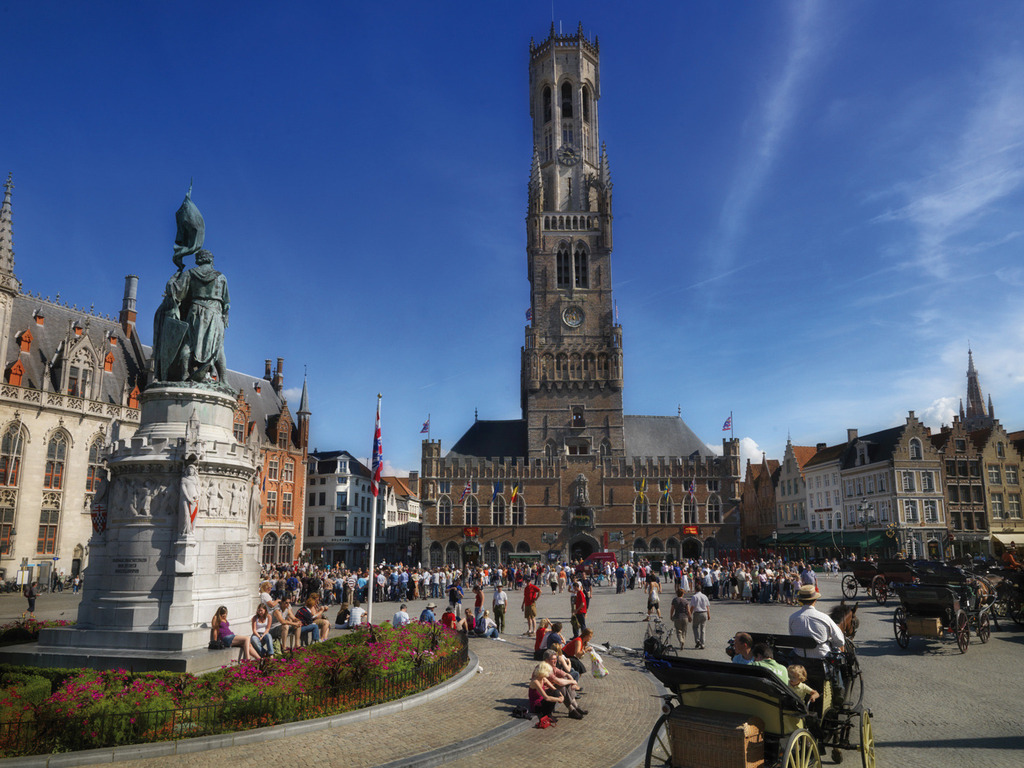 Possibly Bruges' most prominent building is its medieval bell tower, located in the historic market square. The belfry was built around 1240, and, when Bruges was the center of the Flemish textiles industry, the city's one-time cloth market was housed in its hall, too. As Henry Wadsworth Longfellow so poetically wrote, the belfry has a history of destruction and rebirth. Forty years after its completion, a terrible fire broke out. In 1493, its spire was destroyed by a lightning strike and was reconstructed, but then it burned down again in 1741. The spire was wisely not rebuilt a third time.
Onze-Lieve-Vrouwekerk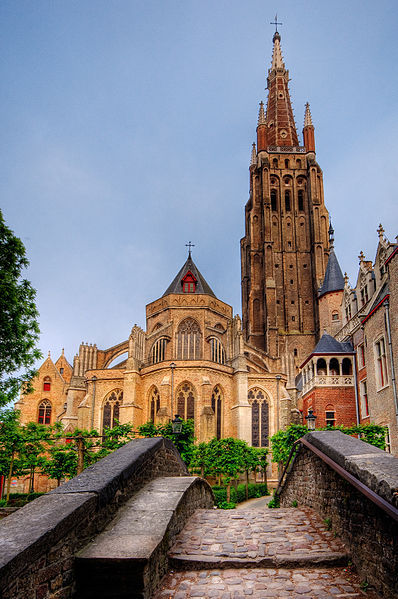 The Church of Our Lady dates to the 13th, 14th, and 15th centuries. As the name implies, it is dedicated to Mary and is the tallest building (401 feet) in the city, though its non-central location means that the belfry draws the eye first. Its interior, however, is nothing short of stunning.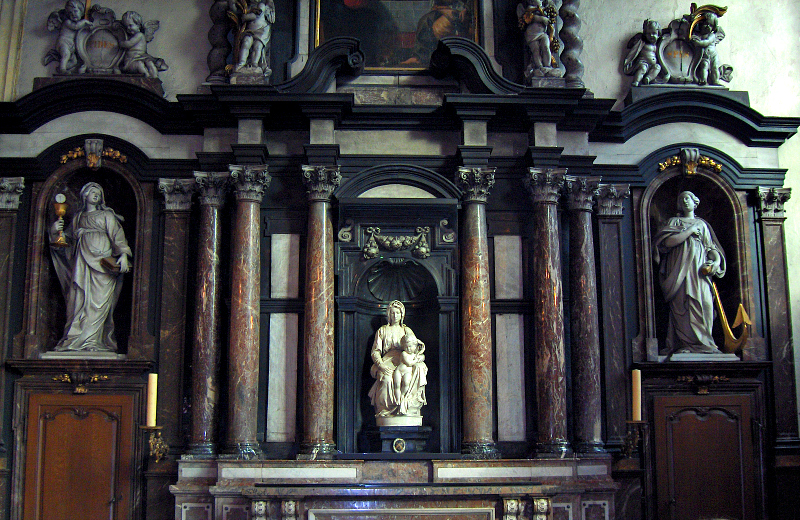 With its pale, almost pinkish walls and its dark, stone accents, Onze-Lieve-Vrouwekerk radiates a very medieval atmosphere. Its altarpiece includes one of Michelangelo's works, a white marble sculpture of the Madonna and Child, which has been stolen by both the French Revolutionists (in 1794) and the German Nazis (in 1944).
Heilig-Bloedbasiliek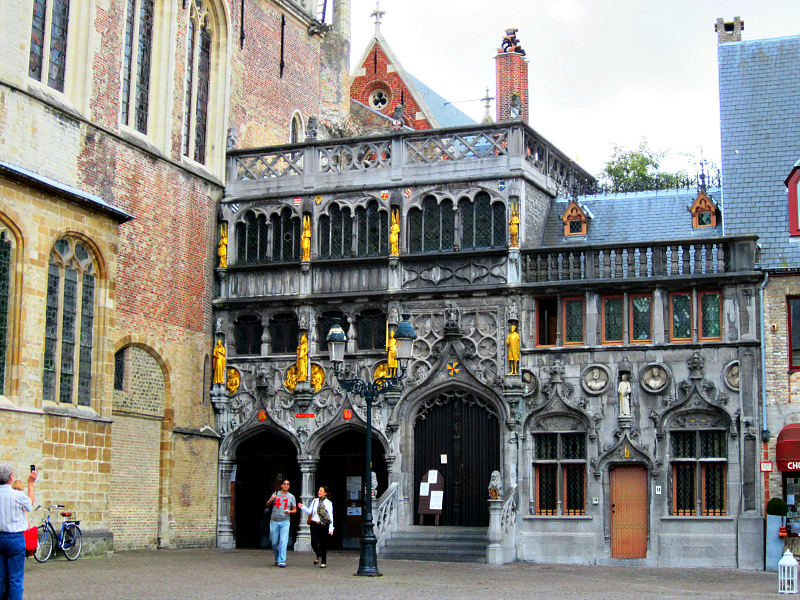 Another very old church is the Basilica of the Holy Blood, constructed between 1134 and 1157, but it has since been rebuilt in the Gothic Revival style. The Chapel of St. Basil, however, remains the original Romanesque building from the mid-12th century.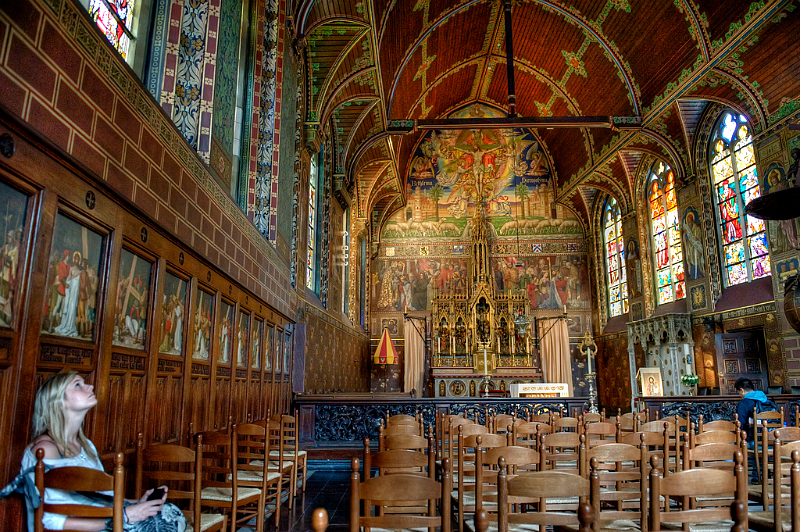 As its name implies, the basilica is significant because it houses the Relic of the Precious Blood--a vial containing a cloth allegedly stained with the blood of Jesus Christ--, brought to Bruges by Thierry of Alsace after the Second Crusade. This artifact was sacred to the über-religious residents of medieval Brugge, but even today, it is paraded annually through the city on Ascension Day, during the Procession of the Holy Blood (Heilig Bloedprocessie). Its religious fame aside, the Basilica of the Holy Blood is a must-see. In my opinion, its graceful arches and beautifully colorful frescoes trumped the holy vial.
Oud Sint-Janshospitaal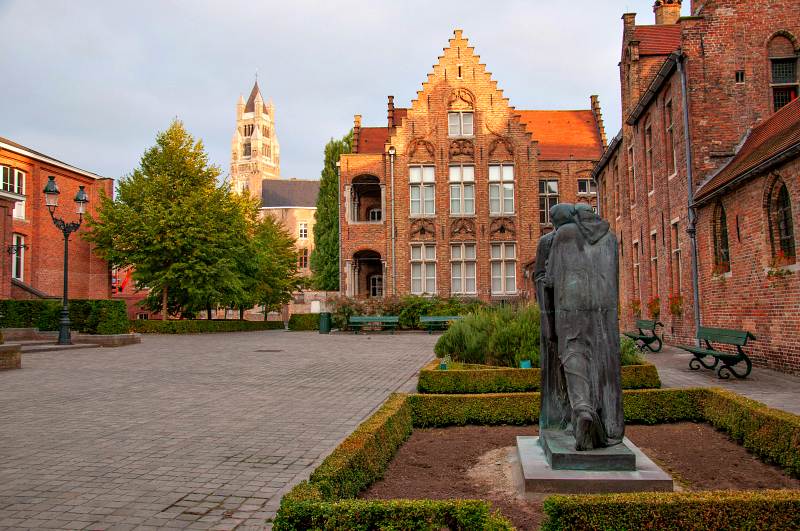 One of my favorite places in Bruges is Old St. John's Hospital, across from the Church of Our Lady. Hailing from the 11th century, it is one of Europe's oldest, intact hospitals, but it also includes a convent and monastery, which may have been home to the nuns and monks caring for the sick. In its medieval days, pilgrims and travelers were the hospital's primary patient. Nowadays, it functions as an art and medical museum, displaying the works of Hans Memling, as well as the medical documents and instruments used in the Middle Ages. When I visited Oud Sint-Janshospitaal, it was also, aptly, hosting the Bodies Exhibit.
Provinciaal Hof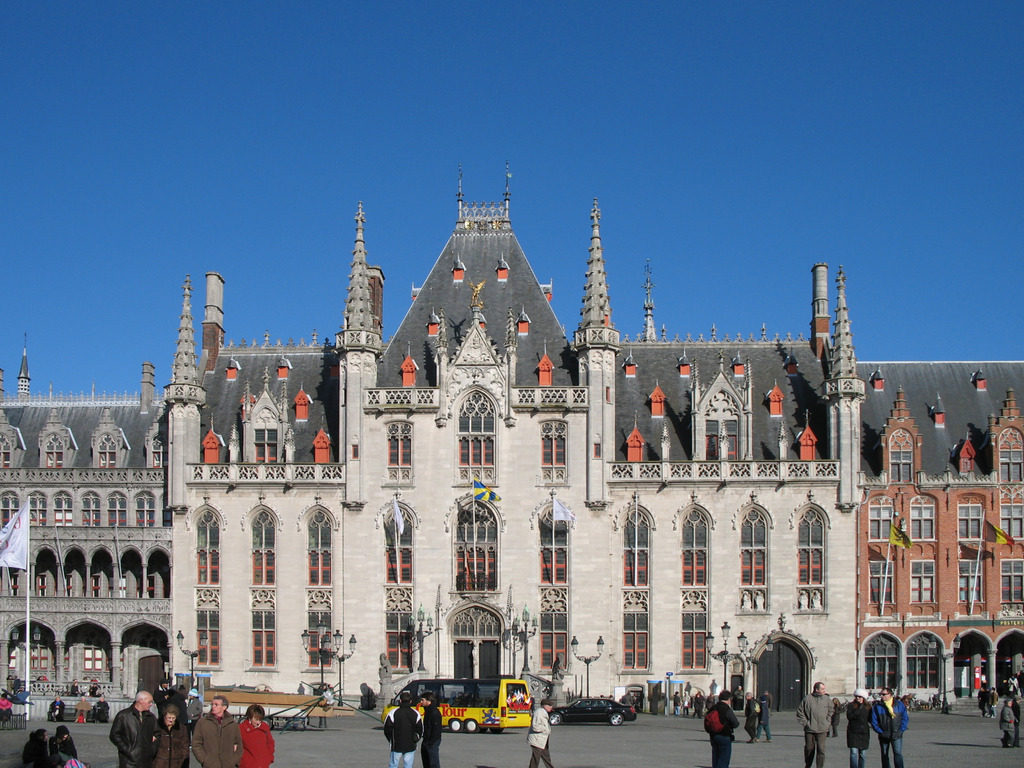 The Provincial Court (or Palace) is a building you simply cannot ignore, partly because it dominates the main market square and partly because its Neogothic (i.e., Gothic Revival) facade screams "notice me!". Although the current Provinciaal Hof only dates to the late 1700s-early 1800s, it was built on the bones of the Waterhalle, a covered harbor that enabled goods to be delivered quickly and efficiently from the ships to the adjacent merchant stalls. The Provincial Court was initially used as a hall in which the government of West Flanders met, but now it houses a fun exhibit (more like a special-effects attraction) on the history of Bruges. In fact, I learned about the Waterhalle from that exhibit.
Beginjhof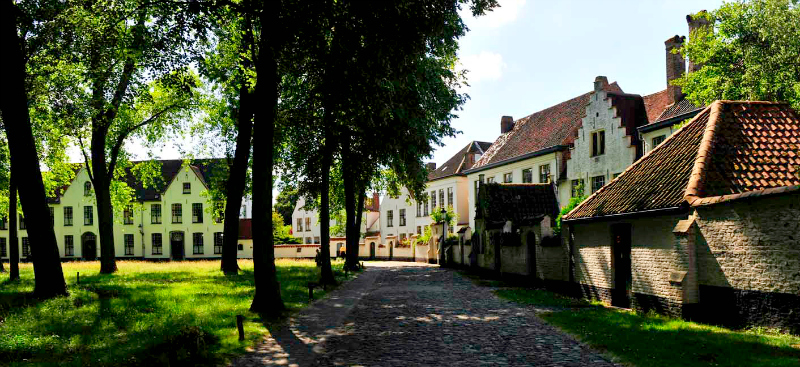 Because Brugge is a remarkably well-preserved medieval city, it should come as no surprise that its convent garden is the original from the Middle Ages. The Princely Béguinage (Beginjhof) Ten Wijngaarde ("vineyard") may be a mouthful, but it's definitely worth a visit. Before we learn more about it, I should probably explain its name first (because I certainly did not know what it meant). A béguinage or beginjhof is a housing complex for beguines--regular women who followed a religious life but did not take vows or go into seclusion. They were most prevalent in Northern Europe, particularly in the Low Countries, such as Belgium, but a few trickled into Western Europe, as well.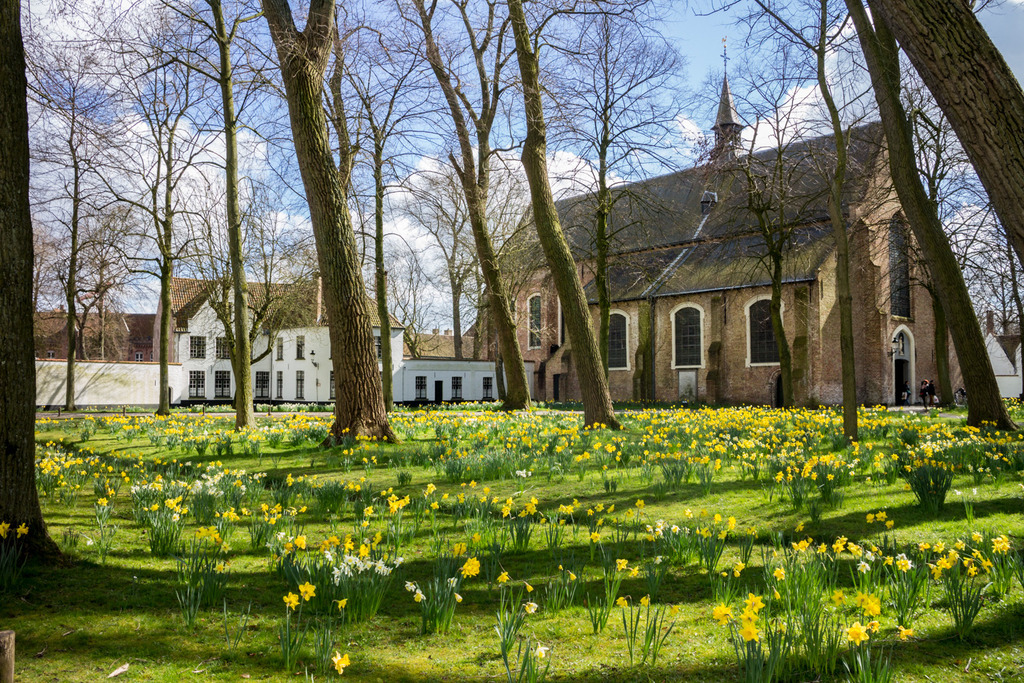 Founded in 1245 as an independent parish, Bruge's beginjhof is now both a UNESCO World Heritage Site and a Benedictine convent. The church, houses, and other buildings are all built around a central courtyard, with fields of daffodils and a pretty, little lake. But what excited me the most was the image of Saint Elizabeth (Szent Erzsébet) of Hungary, who was apparently the patron saint of several béguinages.
Grachten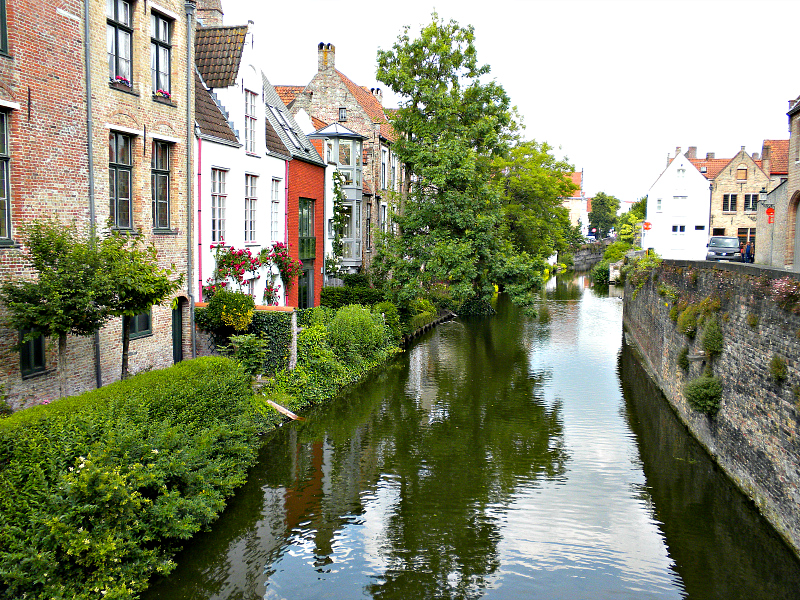 Of all the things that Bruges is famous for, its canals are definitely in the top three. Technically, gracht (plural: grachten) does not have an English translation (there is a separate word--kanaal--for "canal"), but that is what Dutch-speakers call the waterways inside cities, so, for the purposes of this article, I'm going to refer to them as canals.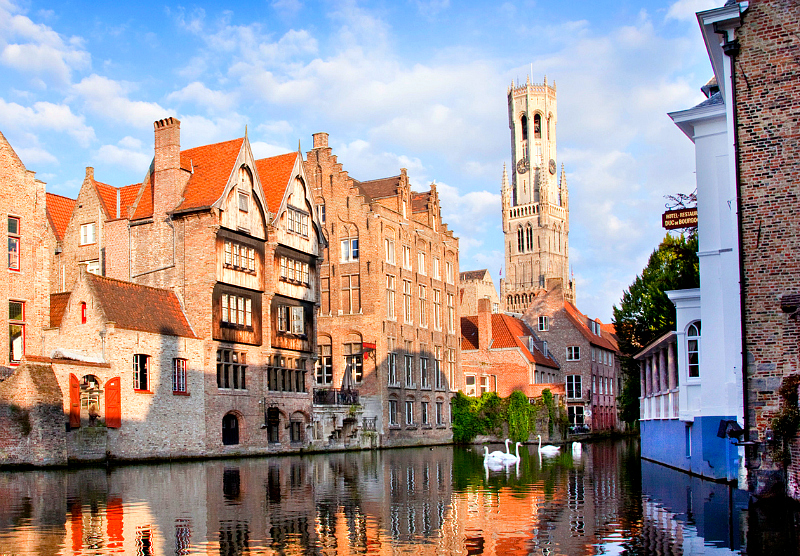 If you leave the historical heart of Bruges (i.e., the market square), everywhere you look there is a gracht. The Flemish even name these urban waterways, like they name their streets. There's the Dijver (near the Church of Our Lady), the Groenerei, and the Rozenhoedkaai, the latter of which is probably the most photographed, but they are all unabashedly scenic. The brick houses seem to rise out of the canals, and flocks of swans float gracefully by someone's waterfront garden. My nephew and I spent a lot of time walking along the grachten, enjoying the sleepy, almost pastoral ambiance they gave to the city. Although, unlike Copenhagen, Bruges was neither bustling nor loud.
Sources:
1. https://bezoekers.brugge.be/en
2. https://en.wikipedia.org/wiki/Beguinage
3. https://en.wiktionary.org/wiki/gracht