Strike A Pose
February 2013
Ariella McManus
Hello there all my lovely would-be-fashionistas! Here we are in a brand new year with exciting new fashion trends to look forward to; I can hardly wait! Already the runways were brimming with inspiration for the upcoming seasons, so grab your cameras and hopefully snag some ideas for yourself.
Jailbird Stripes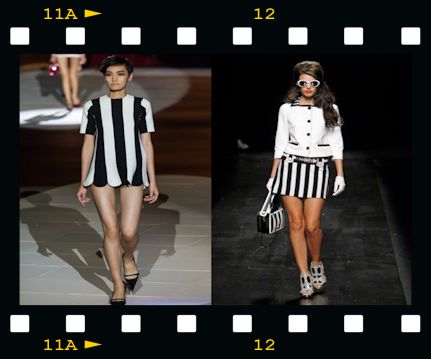 This upcoming season, it would be a fashion crime not to invest at least one piece of your wardrobe to the latest 'revival' trend to hit the runway. This one never truly seems to go out of style. You may know it by other names such as 'referee stripes' or even 'Venetian chic', but whatever the moniker, one thing is for certain, you can never go wrong with this classic black and white mix.
Lace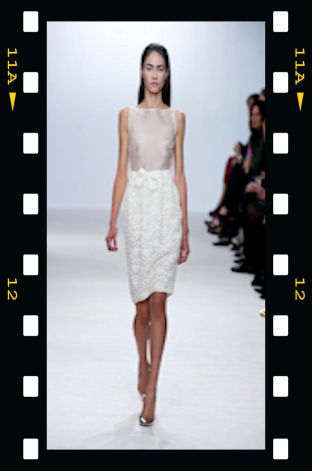 Lace will be big this year. From the tiniest of accents to full outfits, lace was everywhere! But this isn't your grandma's lace, Ladies; it's anything but demure and boring. Ladylike, yes, but with a tough, alluring edge. I'm usually not one for a lot of embellishment, but this one is a keeper.
90's Grunge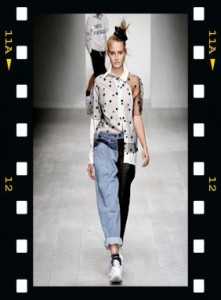 The 90's are back! Retro never really goes 'out of style', but the runways are showing a shift in gears for early 2013. Instead of focusing on the 60's and 70's as was the big trend last year, this year's point of interest was the 1990's. Ripped jeans, spiked hair, torn shirts--the grungier the better. The models looked like they had just stepped out of the back alley of the roughest section of urban life, kicked some butt along the way, and looked darn good doing it! I'm so in!!
Emerald Green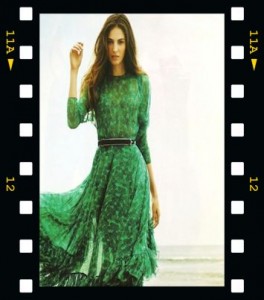 Move over Dorothy, the Emerald City is about to get flooded with fashionistas! Emerald was the color of choice this runway and promises to be 'the' ticket for early 2013. After a spring of pastels last year, I must say that this is a welcome change.
This year I'm going to do something a bit differently and focus briefly on a different designer each issue. I think that it's important to not only recognize the trends in fashion, but to pay a bit of homage to the ones who designed them. And what better place to start than one of fashion's pioneering icons, Coco Chanel?
Coco Chanel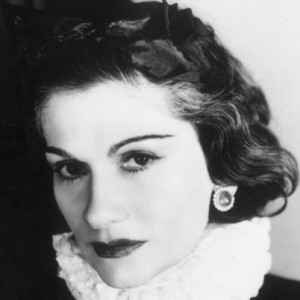 Coco Chanel graced the world with her presence on August 19, 1883, with the 'given' name of Gabrielle Bonheur Chanel. Born in Saumur, France, little Gabrielle's life was not one of fairy tales and princesses. After the death of her mother, her father, who was employed as a peddler, placed his small daughter in an orphanage, preferring, perhaps, not to take her on the road with him. Whatever his motivation, the little girl was taught to sew by the nuns who ran the institution, a skill that would serve her well in later years.
She started off, interestingly enough, as a singer, rather than a fashion designer. It was at one of the clubs, incidentally, that she earned her famous nickname 'Coco', which may or may not (according to the lady herself), be a shortened form of 'cocotte', which translates, in polite company, to 'kept woman'. Gabrielle's love life aside, after her brief stint as a singer, she went on to open her first shop in Paris in 1910, where she sold hats.
Her success led her to explore other avenues, and by 1920, Coco had ventured into the world of perfume making, launching her line of perfume, which proved extremely successful. But she was far from done expanding her horizons. In 1925, she launched the line of her now infamous black and white suit; a look that has become synonymous with the name "Chanel", and one that is still very much in style today.
The Great Depression of the 1930's forced her to close down several of her shops, but that was just the tip of the iceberg of the troubles that would plague her. Her involvement with a German military officer during the German occupation of France would lead to severe public backlash, even though she was never formally charged as a collaborator. She eventually left the country voluntarily, spending many years in Switzerland in sort of a self-imposed exile.
Proving that you are never too old for new beginnings, at the age of 70 years young, Coco Chanel re-entered the world of fashion with a bang. She was embraced, as the saying goes, with open arms, and the love affair has never paled. She died on January 10, 1971, at her apartment in the Hotel Ritz. Despite her many love affairs, she never married, and had no children.
That's it for this time, folks. Next month we will be looking at the year's upcoming trends in make up and spotlight another designer. Now quit reading and GO SHOP!!