American Horror Story: Asylum
February 2013
Zoki Phantom (Hufflepuff)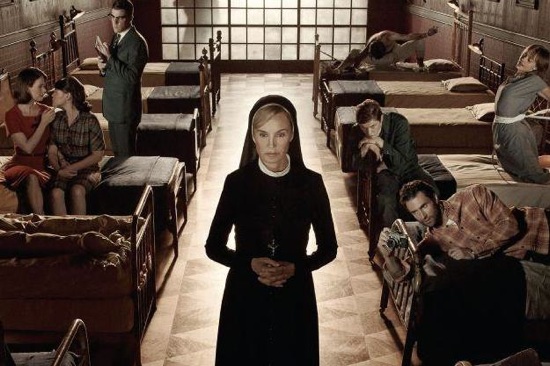 "Legend has it that once you are committed at Briarcliff, you never got out."
Unlike Season 1, where we simply had a haunted house and a bucketful of creepiness, Season 2 of American Horror Story brings the viewers a plotline that might as well be a knitting pattern. Brad Falchuk and Ryan Murphy manage to present a story with a powerful and coherent history, as well as a level of craziness that we couldn't even have dreamed for in Season 1. With a fully different setting time-wise, place-wise, and character-wise, the AHS crew outdid themselves quite a few times with this new season of the horror-mystery masterpiece.
We start in modern days, where two horror fans (portrayed by Adam Levine and Jenna Dewan-Tatum) have decided to spend their honeymoon visiting the twelve most haunted known places, one of which is the remains of Briarcliff Manor, a sanitarium established in 1962. Just minutes after walking in, and discussing the most famous inmate, known as "Bloody Face" due to what he did to his victims, a horrifying event ruins the honeymoon.
But, as promised, Murphy and Falchuk focus the settings in a different time period from the other season – in this case, the 1960s. The story in this period follows a set of characters present in Briarcliff, such as Sister Jude Martin (Oscar-winner Jessica Lange), Monsignor Timothy Howard (Joseph Fiennes), Dr. Arden Arthur (James Cromwell) and Sister Mary Eunice McKee (Lily Rabe), who run Briarcliff, each from their own position.
Then we have a couple of inmates who take the scene as well – "assumed Bloody Face" Kit Walker (Evan Peters), axe-murderess Grace Bertrand (Lizzie Brochere), nimphomaniac Shelley (Chloe Sevigny), pin-head Pepper (Naomi Grossman), etc.
However, while each of the above get their own story told, the main role here goes out to reporter Lana Winters (Sarah Paulson) who wants to make a name for herself by interviewing "Bloody Face", and ends up getting herself locked up in Briarcliff, although fully sane. Dr. Oliver Thredson (Zachary Quinto) tries to help her get out of Briarcliff as he realizes she's perfectly sane, but in fact there's more behind the Doc than what meets the eye.
The show jumps back and forth in time, and we come to realize that "Bloody Face" has a son (Dylan McDermott) who was left in an orphanage and after finding the truth about his parents, he sets out on a quest to continue his father's work. Meanwhile, things at Briarcliff get out of hand. You get to see everything that can, and cannot happen ---escape attempts, harsh punishments, human experiments, horrifying secrets being exposed, exorcism, and (not?) surprisingly – aliens. No worries, you don't actually get to see weird green creatures, this review wouldn't have existed if that was the case. But when you think about it, weren't these the ages when something unexplainable happened was credited to aliens? That's in a way the only logical explanation for adding mysterious alien-like events and talk into a pure horror series.
"We're going to be Pope. We're going to be married, he likes my cooking."
It's both breath-taking and heart-breaking to watch Jessica Lange's interpretation of Sister Judy Martin going crazy inside the place she used to run herself. Even more mesmerizing are the scenes with Judy and the Angel of Death (Frances Conroy), from the point where she's fighting for survival, to the point where she's ready to move on to the other side.
Things take a full turn from the first to the last episode, and every character evolves, changes in a way, and leaves an impact to the uniqueness of this season. Everything is thrown in the storyline like a bunch of fireworks firing up in the sky, but the finale manages to wrap it all up in a fantastically elegant and comforting way. Lana Winters, now in her late years, has become famous due to her reports on Briarcliff and the novels she wrote on her own horrifying experiences, blooms in a final interview that ends the story.
"Just remember – if you look in the face of evil, evil's going to look right back you."