Silver Linings Playbook
February 2013
Prof. Scarlet Leslie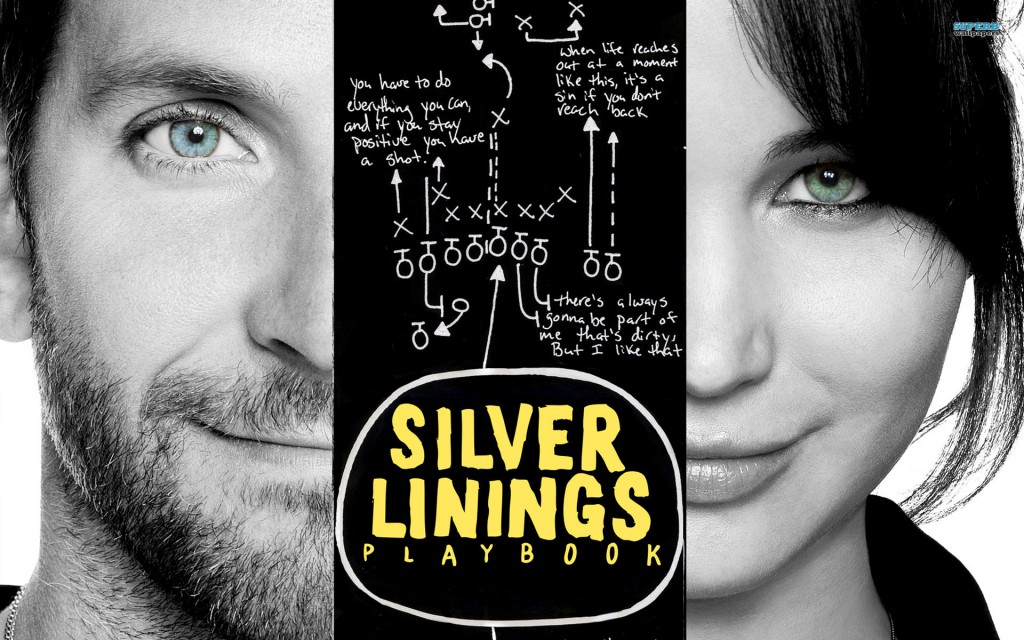 "Pat Solitano (Bradley Cooper), who has bipolar disorder..." And I was hooked! The phrase "bipolar disorder" always gets me. I didn't even read the rest of the synopsis. I had actually been pestering my boyfriend to watch this movie with me when it comes out since October or November. He read the rest of the synopsis and was highly against seeing it since Silver Linings Playbook is considered a romantic comedy. Then, the movie started getting glowing reviews and he became skeptical. I continued to suggest Silver Linings Playbook every time he wanted to watch a movie. Through persistence and a little charm, I finally won!
Silver Linings Playbook is about Pat Solitano (Bradley Cooper), who just completed an extended stay at a mental institution. He moves back in with his parents and his main goal is to get his wife, Nikki, back. Unfortunately, Nikki has filed a restraining order against him after a violent episode, so Pat is unable to actually speak with her. Pat's friend, Ronnie, invites him over to dinner, where he meets Ronnie's sister-in-law, Tiffany Maxwell (Jennifer Lawrence). Tiffany is learning to cope with some mental health issues of her own. She offers to deliver a letter to Nikki if Pat agrees to be her partner in a dancing competition. Pat eventually agrees.
How does the playbook come in? Pat's father, Pat Sr. (Robert De Niro), recently lost his job. He had been resorting to betting on his beloved Philadelphia Eagles football team to earn money and open a restaurant. Pat Sr. bet everything on an Eagles game that turned out to be a complete fiasco in more ways than one. He makes a parlay to possibly win back double his money that rests on both the Eagles game and how Pat and Tiffany perform at the dance competition that same day.
Like many great movies, Silver Linings Playbook is based on a book. I'm sure you have guessed that I added The Silver Linings Playbook by Matthew Quick to my never-ending to-read list. Books also show up in the movie. Nikki is a high school English teacher, so Pat decides to read all the books on her curriculum. He grows upset at the depressing novels and even disturbs his parents in the middle of the night with a rant about A Farewell to Arms by Ernest Hemingway.
The cast for this movie was brilliant. Jennifer Lawrence was able to contest both Bradley Cooper and Robert De Niro. (Side note: I also convinced the boyfriend to read The Hunger Games before watching that movie. So, another win for me!) The banter and conversation between all the people flowed so smoothly. You might miss a joke, but another one will come immediately after. Chris Rock made an appearance in this movie after being absent from the movie scene. He played Pat's friend from the mental institution and I absolutely loved his character.
For me, this film hits home in many ways. My pharmacy rotation this month is at an inpatient psychiatric hospital. I have to admit I cringed a little when Cooper mispronounced trazodone, but I can't blame him. I have trouble pronouncing too many medications. They depicted a myriad of coping mechanisms to help live with mental illness. I felt it was great that they showed how important medications are in treatment, but they are not a quick fix by any means. Counseling, talking to friends, and exercise (even running in a trash bag) are just as critical.
Philadelphia sports teams have dominated the television at my house for as long as I can remember. My brother follows all of them - Eagles, Phillies, Sixers, Flyers. He ended up choosing to attend a university in Philadelphia. Although he does participate in fantasy leagues, it is definitely not to the extent of Pat Sr. in the movie. He also is not extremely superstitious or obsessive-compulsive and must always wear a shirt with an eagle on game days. They put in some lines about the Phillies in the movie, so of course I knew it had to be 2008, when the Phillies won the World Series.
While still a romantic comedy, Silver Linings Playbook also offers lessons about living with mental illness and family dynamics. It is definitely a movie that will leave you in awe and in search of your own silver lining.