The Stepsister Scheme by Jim C. Hines
February 2013
Prof. Jenna Hathaway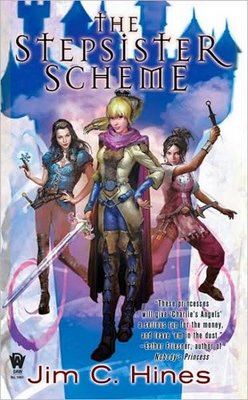 So what happens when Cinderella, Sleeping Beauty, and Snow White team up to rescue a prince? They become the fairy tale world's version of Charlie's Angels, that's what. In The Stepsister Scheme, we meet Danielle Whiteshore (née de Glas)—aka Cinderella—who has just gotten her happily ever after. She married Prince Armand and lives in a castle, elevated from servant to princess. But wait! The story doesn't end there. In fact, it's only just beginning. One of her stepsisters, Charlotte, shows up in her bedroom and tries to assassinate her. Somehow, it seems she has magic that she most definitely did not possess before. Thanks to Talia—better known as Sleeping Beauty—the Queen's personal guard and martial arts master (all those fairy blessings kind of made her totally badass), Danielle didn't lose her life, but Charlotte manages to escape capture by again using magic.
That's when Danielle realizes that her prince isn't in his business trip anymore. He's been kidnapped, and her stepsisters seem like the obvious perpetrator. This is also when she discovers that the Queen has been collecting princesses that apparently are exactly up for this kind of job. She meets Snow White—a witch, ahem, sorceress (who really doesn't like to be called a witch) adept at using mirror magic and all sorts of flirting—and together with Talia, the three of them sets out on an adventure to save Armand. Their destination? Fairytown.
They meet trolls, goblins, dwarves, pixies, and all sorts of interesting creatures along the way. Danielle might not know how to use a sword like Talia or how to practice magic like Snow, but she's proving to be quite the intelligent and resourceful companion. By far she's the most inexperienced of the three but she's a pretty quick learner, and though she's my least favorite character among the princesses (I just really don't like Cinderella, okay?), she is not completely useless. It's really interesting to see Sleeping Beauty being portrayed in this way, perhaps because I keep confusing her with Mulan in my head (thanks to watching too much Once Upon A Time, I suspect). And because all three of these characters aren't known to be badass in their stories. They're possibly three of the most passive princesses in fairy tales (Cinderella wouldn't have gotten to the ball if not for her fairy godmother, and after that she just waited around for the prince to find her, and both Sleeping Beauty and Snow White spent most of their time sleeping, also waiting around for the prince to save them).
The story is engaging enough—there are delightful characters that you meet along the way, and even the prince is quite likeable for the little we get to see of him. I'm not that big on battle scenes, of which there are plenty, but I quite enjoy the rest of it. Plus this is only the first book, and there are three others coming after this. Next up is titled The Mermaid's Madness, and it promises another delightful read about the little mermaid not being the saintly little girl that she is who sacrificed everything for the prince who didn't choose her despite all the prices she'd paid to see him, but instead, well… a crazy villain. It's a twist worth reading, to say the least! If you enjoy a new take on damsels in distress, this series is definitely for you.